Category: PRODUCT REVIEWS
Spinner Bike Seats – Ultimate Guide For You
Cycling is rightly considered one of the best ways to get in shape. Whether you choose to cycle through the countryside or buy an exercise bike at home, which have become popular today, it is a great way to train your heart and burn off all the extra calories. The spinner bike seats is one of the main parts of any bicycle.
No one wants to feel uncomfortable while riding, and even more so, being at home on your favorite simulator, especially if you have spent a lot of money on its purchase and installation. Even some models of exercise bikes that cost a lot of money don't always come with a comfortable enough seat.
That's why we decided to rake through the spinner bike seats market for you to find out what seats you can choose to replace the standard ones. We've taken a close look at all the nuances of the best seats for spin bikes and will tell you about a bunch of features that await you at the end of this article. Now that we've clearly set our research goal, we invite you to check out our list of very comfortable spin bike seats.
Comparison of 7 Best Spinner Bike Seats
Best Spin Bike Seats Comparison Table
| | | | | | | |
| --- | --- | --- | --- | --- | --- | --- |
| NAME | | MATERIALS | ADAPTER | BREATHABLE | DESIGNED | |
| SGODDE Gel Indoor Bike Seat Replacement | | Gel Seat | Seat Clamp Included | Breathable Hollow Design | For men and women | |
| Selle Royal Respiro Athletic Spinning Gel Seat | | Gel Seat | Seat Clamp Not Included | Breathable Hollow Design | For men and women | |
| Bikeroo Comfortable Men's Exercise Bike Seat | | Foam Seat | Seat Clamp Included | Breathable Hollow Design | For men | |
| Planet Men's Bike A.R.S. Standard Bike Seat | | Foam Seat | Seat Clamp Not Included | Breathable Hollow Design | For men | |
| Bikeroo Women's Stationary Bike Seat Replacement | | Foam Seat | Seat Clamp Included | Breathable Hollow Design | For women | |
| Zacro BS053 Gel Indoor Cycling Bike Saddle | | Gel Seat | Seat Clamp Included | Breathable Hollow Design | For women | |
| Schwinn Schwinn Exercise Bike Seat Replacement | | Foam Seat | Seat Clamp Included | W/O Breathable Hollow Design | For men | |
Top 7 Indoor Cycling Bike Seats
SGODDE Gel Indoor Bike Seat Replacement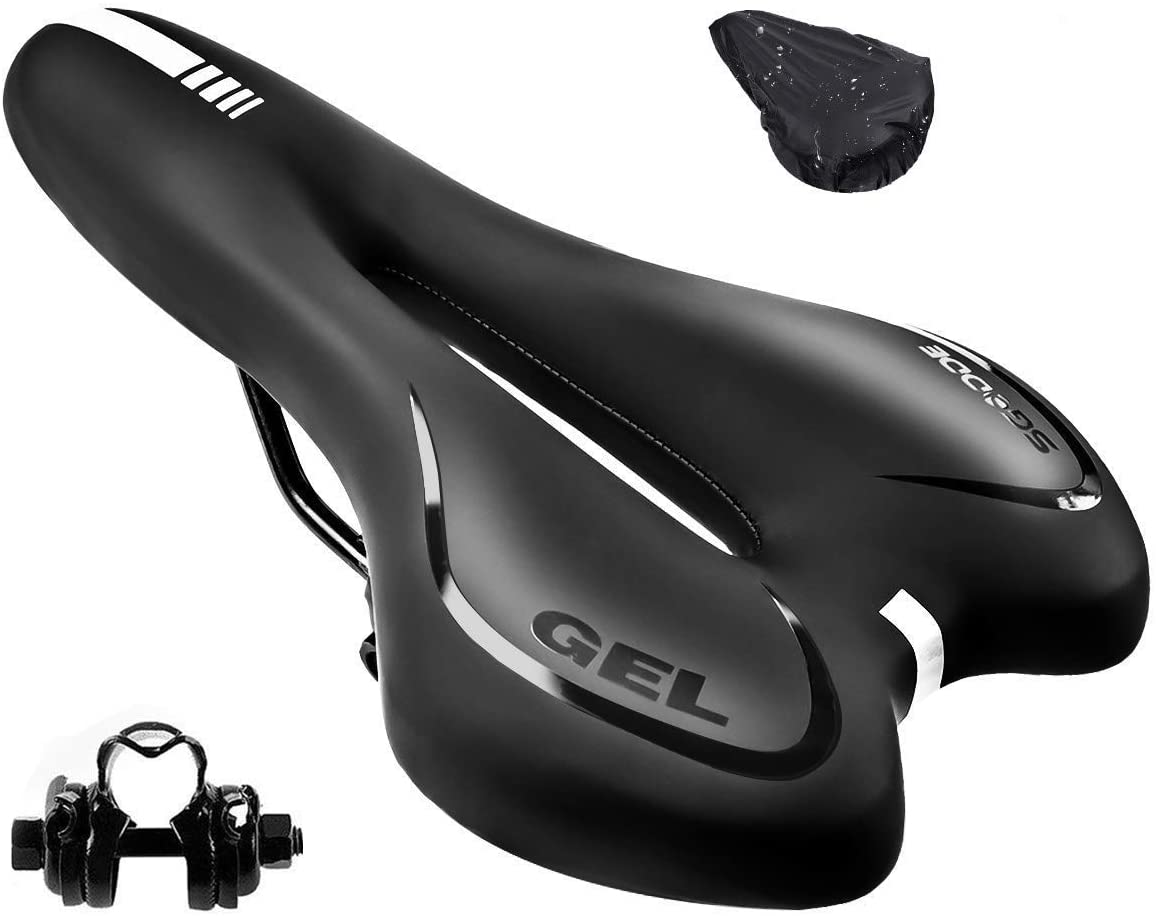 To begin with, we will talk about this model of comfortable spin-bike saddles. Judging by its name, it is a complete replacement for the standard trainer seat, not the usual cushion instead of a seat, which are very often sold lately on the Internet. It was originally designed for mountain bikes, but practice has shown that it performs well in most models of home spin bikes.
The top of the seat is covered with an anti-slip, wear-resistant polyurethane leather and a greasy gel, which has a high density is inside the seat.
All this together makes this model very comfortable on the one hand and very soft on the other. This saddle is not simple – it is an anatomical structure. The design is unisex and simple, so it is suitable for both men and women who will enjoy the comfort it provides.
It doesn't look like most of the bulky and heavy seats on the market today. It's quite narrow, it includes soft gel padding and the seat itself looks breathable. Plus a special seat adapter is added as a nice change. You'll only pay about twenty dollars, and in return you'll get a terrific replacement seat for your home or mountain bike that you've bought yourself.
More info:
This gel seat has the following parameters: it reaches ten and a half inches long, six inches wide, and three inches high. It comes with a seatpost clip. Also included is a one-year warranty that works one hundred percent.
Pros
Cons
👍 This is a quality gel seat for home spin bikes that has a bunch of positive reviews and a high rating, while only costing twenty dollars

👍 The design is suitable for men and women, and it comes with an adaptable nozzle

👍 Comfortable leather and gel attachments
👎 Some users claim that they slip a lot on this seat

👎 The seat can come off after a few months of use, though not all reviews say that, plus let's not forget the warranty
Selle Royal Respiro Athletic Gel Seat for Spinning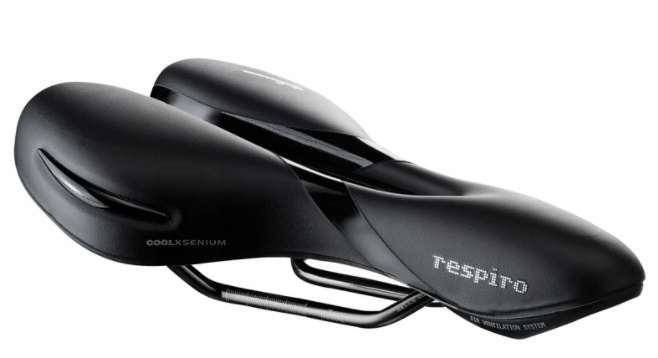 This bicycle saddle has been made with innovative technology that is designed to ensure the comfort of its users. It reduces pressure peaks by forty percent, which cannot be achieved with conventional saddle padding materials. The technology really proved to be very effective. After installing the seat our experts evaluated the increase in comfort for the users.
This gel backbike seat is great for those who want to take their sporting activities to the next level and start mastering long-distance training. It is also one hundred percent airtight and twenty percent lighter than a bunch of other exercise bike seats in the same category.
Special technology keeps the seat from getting wet inside. It also has a ventilation chamber. This allows the seat to always keep its cool during intense workouts and even when you're not exercising on the exercise bike. The seat was designed with a special foam structure that increases its elasticity and allows more air to pass through.
There is one other notable thing this seat boasts. As you may notice, it is black, and black objects always heat up faster than others. In the case of this seat, that is not the case at all. Its design is so clever that it heats up much slower than its competitors on the market.
And even though it's a bit pricey: as much as sixty dollars, we've come to the conclusion that it's a great gel spin bike seat that comes with a bunch of useful features. They're worth your money.
Additional information:
Here are the dimensions of this seat: almost fourteen inches long, nine and a half inches wide and three inches high. Unfortunately, we didn't find anything about the warranty on this accessory. The best we could find on the subject is a plaque talking about a free two-week return on the manufacturer's official website.
Pros
Cons
👍 The design of this seat is so great, it looks great on just about any spin bike.

👍 It features a unique ventilation chamber and cool attachments, making it incredibly tricked out

👎 The price is too expensive for people who do not have a lot of money, but want a comfortable seat at their disposal

👎 This seat was originally designed for experienced cyclists, not beginners

👎 Beginners who are overweight are likely to find it uncomfortable and buy a wider seat
Bikeroo Comfortable Men's Exercise Bike Seat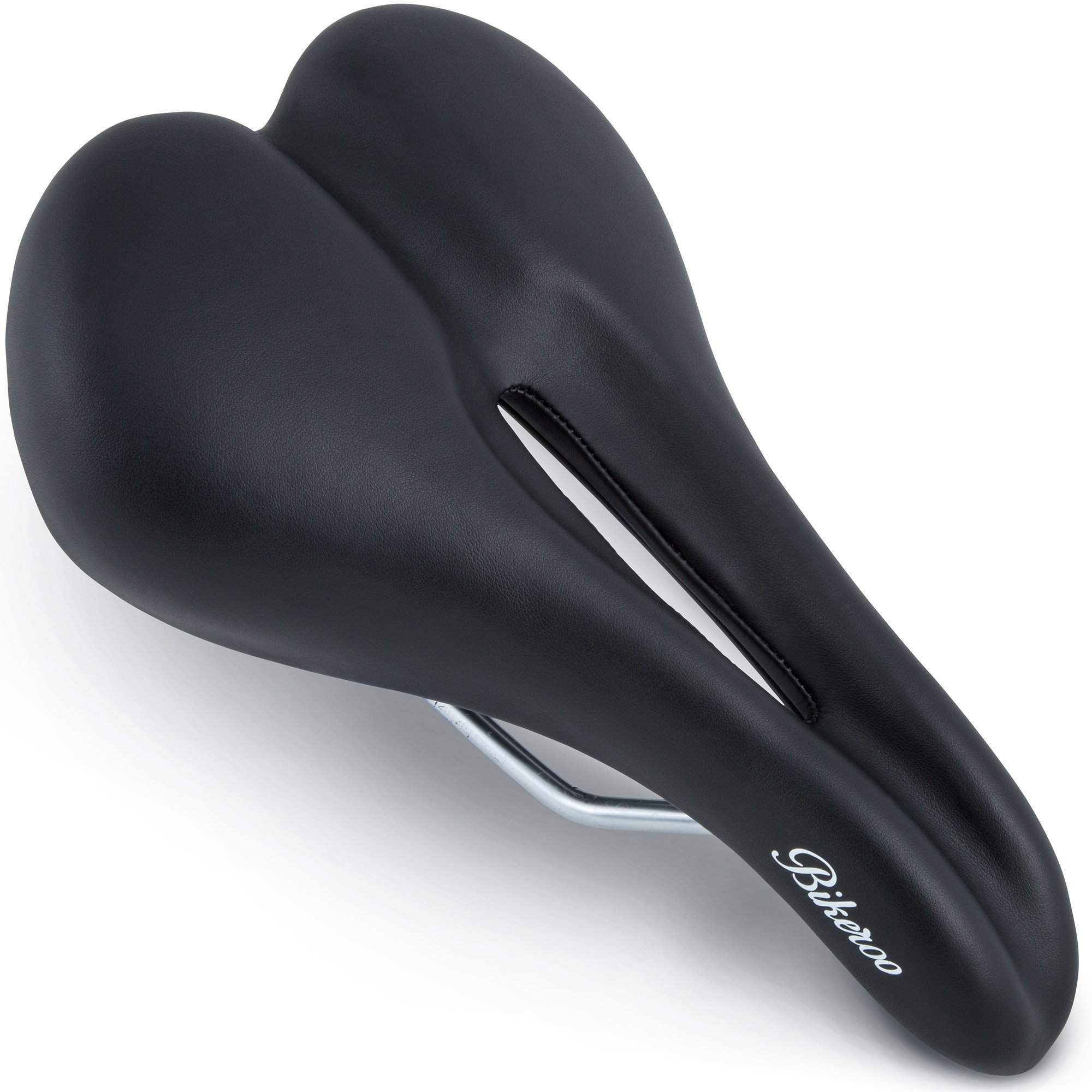 Next on our list of select trainer seats is this wonderful men's model. We've really found a terrific replacement for the standard seat. Not only does it give you comfort, but it eliminates prostate pressure, prevents numbness, and keeps you safe from pain.
As you may have noticed from the name, this seat is designed specifically for men. But we claim that women can also use it just as effectively as men. It easily adapts to your every need. It doesn't matter if you use it on a spin bike, mountain bike, or hybrid bike.
The seat includes memory foam that forms during your workouts. That's why with this seat you can easily and easily do long workouts on the exercise bike. For men, a special cutout is made in the center of the crotch to take away any pressure and create the right amount of air permeability.
This seat is suitable for those who are just starting to discover all the subtleties of cycling, as well as for those who have long been engaged in this business and want to improve further. And one last plus to add to your purchase decision: it's very smooth.
Your bike will get a new look with this seat, thanks to its great design. It will look stylish and modern. Oh yeah, and the price for such a miracle is only thirty dollars. It's an incredible bargain to buy, because for that money you get a really good man's seat.
Additional information:
The dimensions of this men's seat look to be just over ten inches long, seven inches wide and almost four inches high. The other good news is that there is a one-year money-back guarantee on this spin bike seat.
Pros
Cons
👍 Fingers crossed: it's cheap, very efficient and comfortable, you'll really enjoy your bike ride

👍 Incredible benefits, for thirty dollars you get a bunch of useful features
👎 The seat is primarily designed for men, so we wouldn't recommend buying it for a female audience, even though they can use it. For you there is something interesting a little bit further.
👎 A bit broad, some users might have a problem with it.
Planet Men's Bike A.R.S. Standard Bike Seat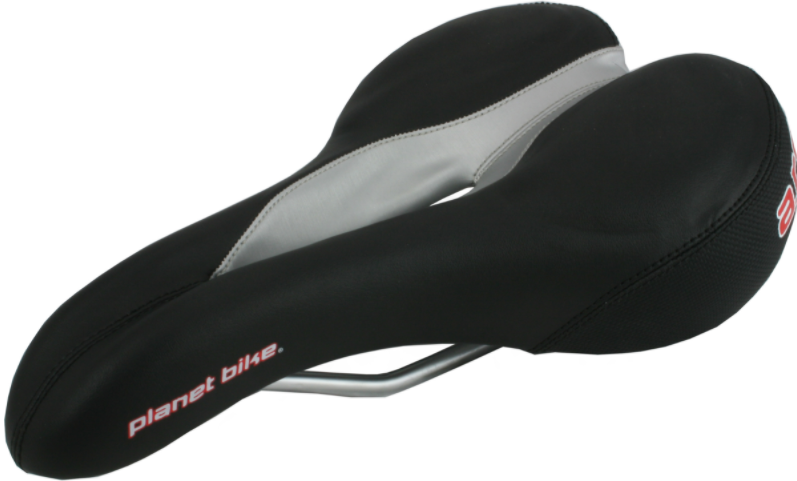 This seat, in our opinion, is very good for your exercise bike or bicycle. The padding is very lush, which creates excellent comfort. The anatomical groove runs the entire length of the seat and turns into a full cutout towards the nose. Although the opulence of the upholstery can play a cruel trick on you.
The matter is that it is obviously not designed for long trips. If you're going to move into long workouts with this seat, you're in for some irritation and hot spots.
There is also a weakness in terms of the durability of this seat – the Lycra coating. It will wear out and wear off fairly quickly when there is friction between your clothes and the saddle. The best thing about this very padded stationary exercise bike saddle in your home is that it fits perfectly into a short workout or commute format.
This seat will not work for people who want to do whole bike rides or go for a new, professional level of training at home. This is not a problem with the seat itself, rather it is simply manufactured for a specific audience. The price ranges from thirty to forty dollars, and it's a very good investment to replace a standard seat.
Additional Information:
The dimensions of this seat are as follows: eleven inches long, seven inches wide, and three-plus inches high. It weighs less than one pound, making it one of the lightest seats on our list. And here's cause for concern: the manufacturer offers no guarantees for the user.
| | |
| --- | --- |
| Pros | Cons |
| 👍 It's comfortable, it's inexpensive if you're looking for a simple and good alternative to a standard spin bike seat | 👎 If you are a professional cyclist, it is not suitable for you. If you use it for a long time, it causes a lot of discomfort and quickly falls into disrepair. Add to this the lack of any warranty |
Bikeroo Women's Stationary Bike Seat Replacement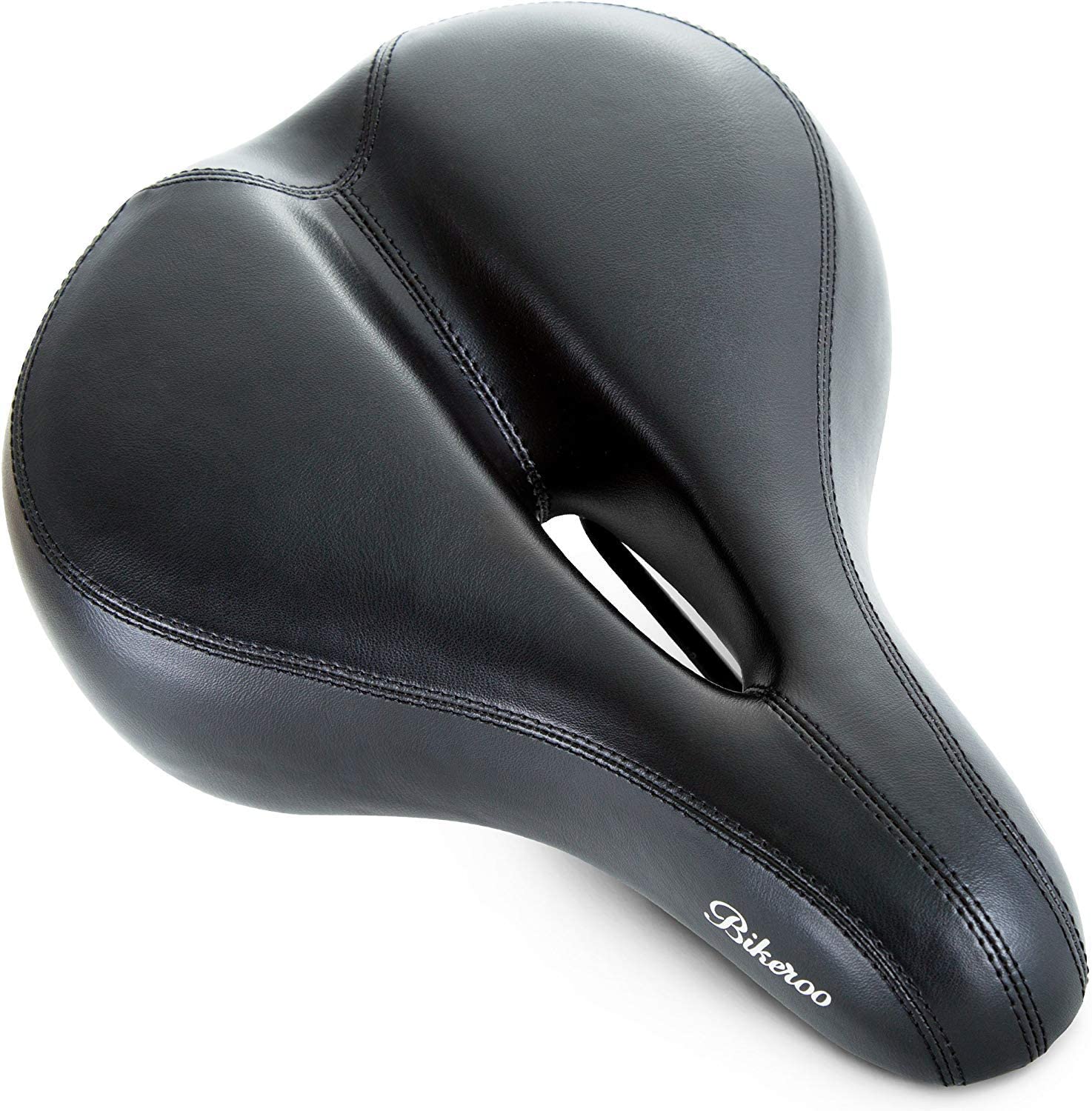 And once again, this manufacturer shows up. This time we decided to present you their version of an earlier seat, but designed so that it fits perfectly to the shape of a woman and can create comfort for people who are overweight or who need more support.
The wide seat, narrowed nose, and center relief make this saddle the perfect fit for any woman's needs. It is one of the most comfortable seats available today, designed with the user in mind. It features a carefully selected synthetic leather with an incredibly smooth surface that is very comfortable to sit on and exercise on.
Another feature is that this seat fits perfectly on any bike, outdoor or indoor. It can be installed anywhere. Installation in general in the case of this seat takes very little time and is simple. Everything, thanks to the double rail with the optional seat adapter. At the moment, the price of this spin bike seat is about forty dollars, which is very nice.
There is a huge plus in buying these particular seats, they can come to you with a small set of small but nice accessories. These include a waterproof rain cover, detailed instructions on how to install the saddle, tools for installation, and a special adapter for the saddle.
It is ideal for women, thanks to the thoughtful and comfortable design. But there is one small problem: with prolonged use, there is a chance that this saddle will quickly fall into disrepair.
Additional information:
The dimensions of this women's upholstered seat are as follows: just over ten inches long, nearly eight inches wide and two and a half inches high. The company takes pride and confidence in their product, so they offer a two-month money-back guarantee if anyone happens to not like their product. Although at first you may think it's a very short time, it's enough time to evaluate the seat and decide if it's right for you.
Pros
Cons
👍 Like the men's version, this is a very comfortable stationary bike seat for indoor athletes, available at a relatively low price

👍 The special assembly for women gives a huge advantage over other seats on the market when women pick them up

👎 There's the same problem as the men's seat: it's designed specifically for women, so there's nothing for men to do on it

👎 It's also not the best option for those who want to work out intensely for long periods of time or use the exercise bike frequently
Zacro BS053 Gel Indoor Cycling Bike Saddle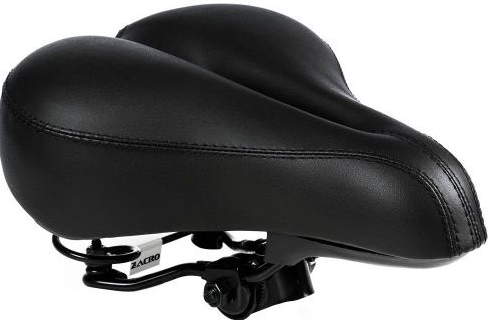 This saddle is great for both spin bikes and upright bikes. The round shape of the rear part of the saddle creates a very comfortable feeling when riding in an upright or cruising position. The saddle has increased density gel foam that is very flexible and soft to the touch.
It will truly take away any pain that most likely accompanied you when you were using a standard exercise bike seat. The recess on the seat also provides comfort to your body during long term workouts, sometimes it can be difficult to find a seat with this important parameter.
If you have a regular bike that you want to replace your old seat on, this saddle comes complete with a dual carbon steel spring suspension that helps you get over the rough patches of the road you might encounter during your bike ride.
This stationary bicycle seat is also quite inexpensive at about thirty dollars. It will fit both men and women, although judging by the design of the saddle, it looks more like a woman's model. All in all, it's a good choice for a replacement seat.
Additional information:
The dimensions of this seat are eleven and a half inches long, seven and a half inches wide, and five and a half inches high. We have not been able to find the warranty conditions because there are none, be warned.
Pros
Cons
👍 This gel bicycle saddle is perfectly shaped for a comfortable ride

👍 The recesses give good ventilation and comfort on long rides

👍 Can be used for both home and street bikes
👍 Performs great, especially if you ride regularly
👎 There are a few reports that the seat sometimes skids to the side, which can cause a few unpleasant moments during the ride

👎 For intense workouts, the seat is unlikely to suit you

👎 If you have reached the level of a professional athlete, the design of this seat should not be your choice
Schwinn Schwinn Exercise Bike Seat Replacement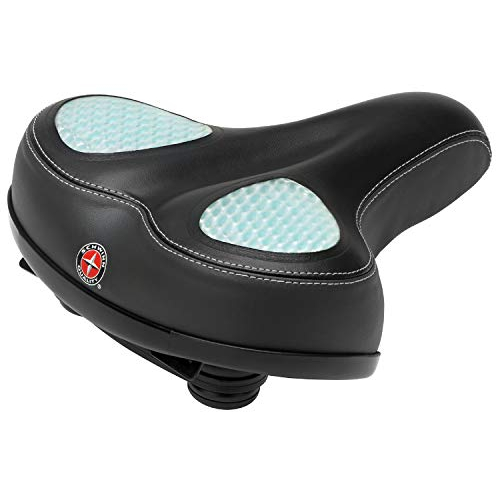 Well, at the end of our list is this bicycle saddle. As you can understand from the name of this model, the seat emphasizes comfortable use. However, unlike the other seats on our list, it includes a huge number of different saddle adjustments, adjusting to the desires and tastes of the buyer.
Here's a list of those options: a wide saddle, a saddle with no nose, an extra-wide saddle, and a set of covers for each option. You can also choose a different color for the seat if you're bored with the standard black and white tones.
Maybe you want the new seat to be blue or light green. If you chose the default seat, it is not wide enough, so some users may have problems. Nevertheless, we can choose, so this problem is quite solvable.
Also included in the seat is a unique gel pad that can give full support even to very large athletes to give them a comfortable ride. The special fabric this seat is upholstered in is very pleasant and breathable, and the material will not wear out when stretched hard. It will be comfortable to put on your home exercise bike as well as your outdoor bike.
Additional Info:
Because of the pile of options and the ability to upgrade, the size of the seat is very difficult to determine. No one gives you a warranty either. So this section will be empty in this case.
Pros
Cons
👍 The biggest plus is adaptation for any user

👍 If you consider all the options that come with it, it can be called a universal option for any group of people

👍 There are more advantages: comfortable gel padding and the ability to put it on both street and home bikes
👎 There are too many options, and you can get confused and end up ordering the wrong one

👎 You choose rather than get all the benefits at once

👎 It is very difficult to agree on a size, and there is no guarantee
Buyer's Guide to Help You Find a Comfortable Seat for Your Spin Bikes
Choosing a bicycle saddle is not as easy a task as it may seem at first glance. It only seems that all of them by default are perfect for riding, comfortable and do not cause any discomfort to their owner. In fact, the mere presence of a two-wheeled battle buddy does not guarantee the pleasure of riding it.
It is important to choose such a bicycle saddle that it does not chafe while riding, otherwise you will not be able to ride it for a long time and with comfort.
Do not rush into the store and buy the first colorful, synthetic or leather saddle you like. You should not buy the most expensive – the cost, like a rocket, is not a guarantee of quality and comfort for the future owner.
The most promoted brands and well-known brands also cannot guarantee that this person will be extremely comfortable to make their bicycle rides. So how to choose the one with which the bicycle saddle will not feel, and after a ride will not want to walk a crab and ice?
In general terms, the seat for the bike captain should be optimally rigid, moderately soft and slightly springy. It should feel like a good orthopedic chair or insoles – not like a piece of rock and equally far from Grandma's soft couch. The sciatic bones on such a bicycle saddle do not strain too much, but also do not rub against the soft covering.
It's not just the saddle and posture that can create friction in the lower body. Clothing, too, has a big impact on how you feel after your bike ride. If you are planning a long-distance ride and your two-wheeled companion has a leather saddle with no padding, you should think about choosing special cycling shorts.
The tense posture of the rider together with the special material of the clothing will allow you to get rid of chafing, because sweat will not collect and roll down the skin, and there will be no folds in the places of contact between the body and the bike saddle.
A too-soft seat has a negative impact not only on the ride itself, but also on health in general. The sciatic bones in motion and shaking gradually fall into the soft material. And if at first a pleasant feeling of comfort is created, it is very quickly replaced by numbness due to the fact that the blood supply is disturbed and slowed down by the compressed soft tissues.
The vast majority of the varieties of bicycle seats have a shape similar to a pear shape – the front part of the seat is narrow and the back is wide. And the transition from one part to the other should not only be smooth, but also suitable for a certain owner.
And the thickness of the rider's hips and bones does not matter at all, i.e. it is not necessary to buy the widest saddle in the back if the rider thinks that the sciatic bones are too wide.
This is an important parameter, because the rider sits flat on the seat with these bones. If the surface is uneven or wider than necessary, instead of the expected comfort during riding you will get only discomfort.
First of all, because the inner side of the thighs rub against the wings of the seat and leave behind a lot of unpleasant feelings. The width of the owner's seat usually has a small variation in size. Starting usually at 140 mm and ending at 180 mm, it is kept in the datasheet that comes with the product.
Before choosing one of these landings, it is worth measuring the distance there is between the sciatic bones. To do this you can use an incomplete bag of flour – having sat on it and carefully rising, the researcher will see two even indentations on the bag.
Measuring the distance between them, the owner of the bicycle will know what the distance should be. And already having such accurate data, it will not be difficult to choose a wide enough seat.
An important factor is the material from which a bicycle saddle is chosen. Many professionals in the sports world talk about the convenience of gel and foam materials. They are easy to keep clean, unpretentious, and have features that can be extremely satisfying.
Gel pads are very popular because they almost exactly follow the shape of the wearer and give maximum comfort when moving. If the problem was not in the experience and fit, then chafing and discomfort such padding will not bring.
The only tangible disadvantage is that such seats quickly lose their shape and compress. This not only reduces the level of comfort, but also hits the pocket, forcing to apply for a new bike saddle.
Foam seats also have their adherents because they have a fair amount of flexibility. They flex to the anatomy of each owner, and also easily return to their original shapes. If the rider weighs more than 90 kilograms, this bicycle seat would be ideal for him. But just like its gel counterpart, it also has a short lifespan.
A leather saddle is not only proven by time and several generations of users. Leather is truly durable compared to its polymer competitors, and its construction has remained unmatched for decades. The brooks saddle is made of sanded leather, which is first carefully stretched on a special frame.
According to some reviews of active cyclists leather saddle resembles a cozy favorite sneakers. Many variations have a foam insert under the top layer, which allows to smooth out for the rider all the surface irregularities and facilitate the path of a person with a lot of weight.
FAQs When Buying Indoor Cycle Seats
What's the most comfortable spin bike seat?
Consider the first seat on our list – it has great gel padding, so it's great for lightweight spin bikes, and the oversized Xmifer is a great preference for athletes who weigh a little more or have larger hips.
Does the X seat work with the Y bike?
It's hard to give a definite answer to this question because circumstances play a huge role here. Many spinning and other home bikes today are quite suitable for these seats, although, as with any rule, there are a bunch of exceptions from here.
Even if the seat seems to fit your bike perfectly at first glance, it may not be the best or may become uncomfortable because of the difference in design between a standard seat and a replacement. Again: heaps of research on the internet and our detailed guide above will help you stay out of such trouble and find the best exercise bike saddle for you.
How do I choose between a narrow and wide seat?
To choose the most accurate bicycle saddle, you need to know the distance between the pelvic pits on which you sit. These sciatic bones must support your body as you sit. The distance between the two bones is easy to determine individually: first, by sitting on a soft plastic surface, and then by measuring the distance between the centers of the remaining indentations.
If you sit on a seat that is too narrow, your sciatic bones will not fall on its surface and your weight will support the soft tissue between your legs. Under the weight of your body, the blood vessels in your groin overflow, disrupting the blood supply to your perineum.
Pedaling on a seat that is too wide will rub the inside of your thighs on the sides of the saddle. In this case, you cannot avoid chafing your skin, especially in the heat of summer.
I have a seat, but I still feel uncomfortable. What's the matter?
It often happens that at first glance the saddle is the right one for you, but because of incorrect bike fit and, consequently, incorrect weight distribution and positioning on the saddle, discomfort arises. Some of the most common problems when riding are excessive pressure on the groin and chafing of the soft tissues.
For long (and not only) rides, it is recommended to use special cycling clothing with padded pampers, as well as to make a fit on the bike.
You should sit with your sciatic bones on the extension of the saddle at the back, and the inclination should be chosen so that the cyclist does not roll backwards and forwards on the toe when pedaling. Ignoring the mentioned problems can lead to serious consequences and even health problems!
How do I adjust my bicycle saddle properly?
For fear of falling, novice cyclists often lower the seat too low, allowing their feet to reach the ground, but this method of sitting requires too much bending of the knees to pedal, which is comparable to squatting in terms of physical exertion. This results in quickly tired legs and a high risk of knee injuries.
Set the pedals to a position where one of them is at its lowest point. Set the saddle height so that the fully straightened foot reaches the heel of the pedal in the lowest position. When you rotate the pedals, the leg should not be fully straightened out.
It is important that the seat post should be at least 10-15cm into the frame tube, otherwise it could be damaged. There is a special limiter mark on such pins.
VIDEO THAT WILL HELP YOU!