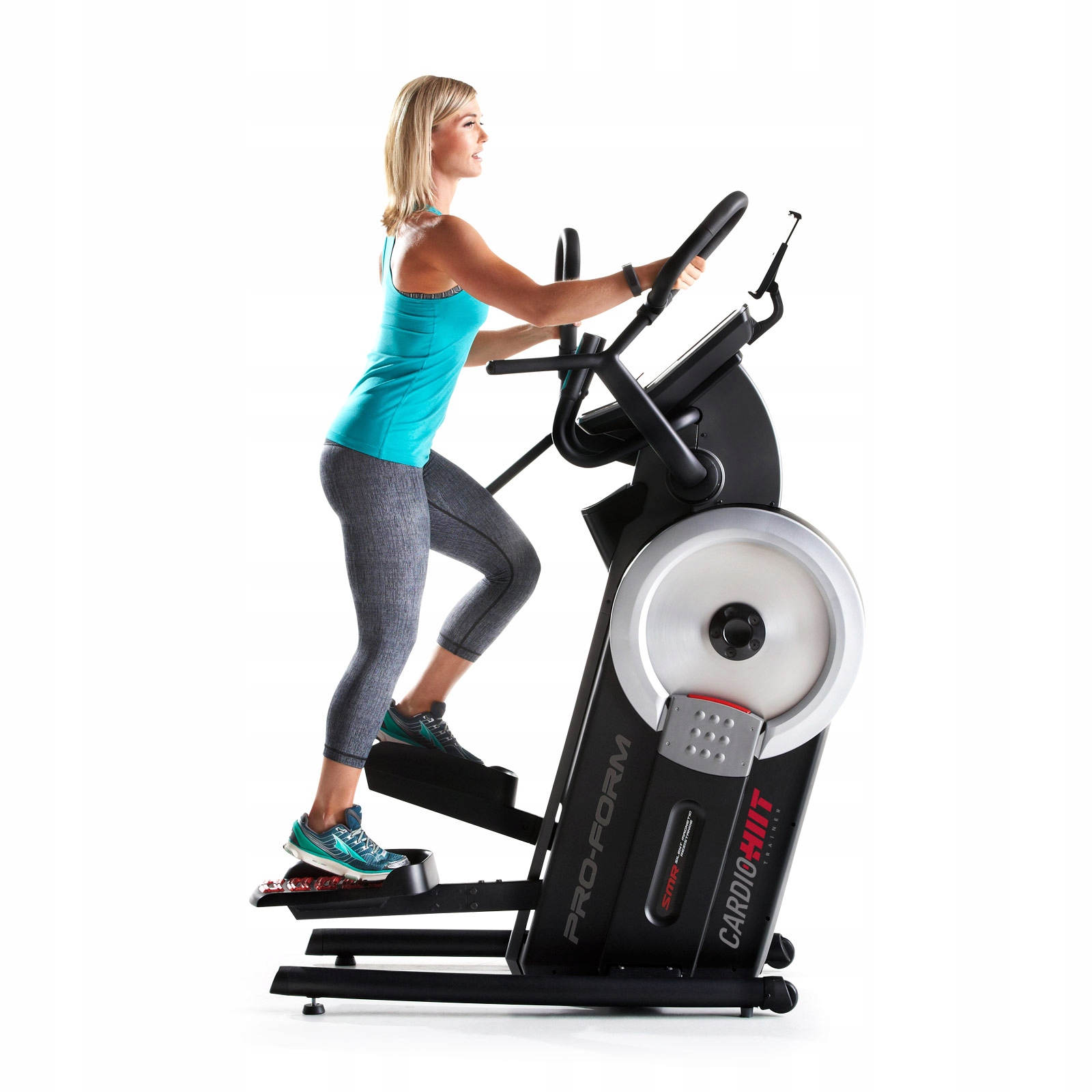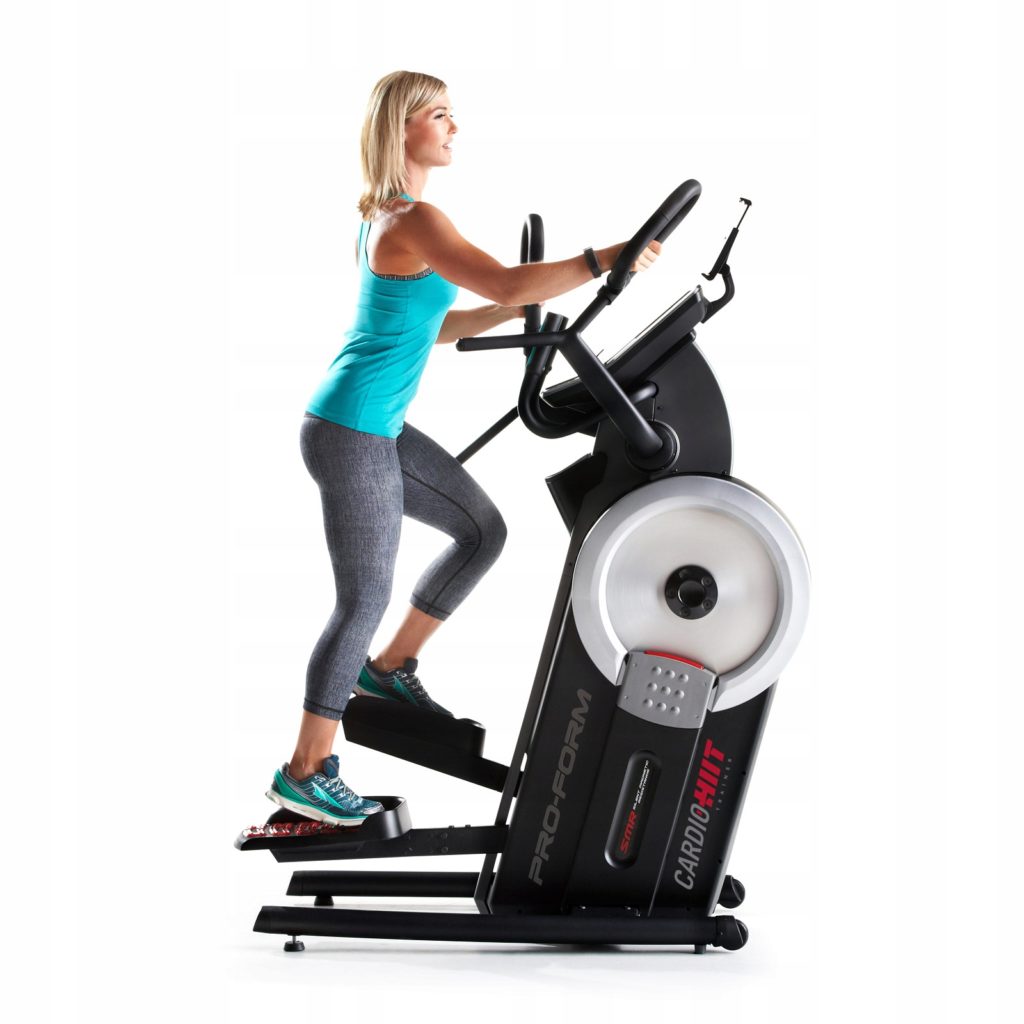 I will be very surprised if you are still not looking for a powerful belt-driven magnetic resistance training apparatus! By the way, it takes up very little space. It is a proform HIIT trainer!
The fact is that the ProForm Cardio HIIT Trainer Pro is one of the best elliptical devices you have ever come across! Not sure how to burn more calories? But it knows! With the ProForm Cardio HIIT Trainer Pro you can burn twice as many calories as on other cardio machines.
But since this training apparatus is designed for intensive training, people with heart diseases are not recommended to use it.
ProForm Cardio HIIT Training Pro is a unique invention, it combines both stepping / climbing and elliptical exercises. And that's not all, thanks to the multi-functional handlebars you train the whole body, including your arms.
Despite its compact size, the machine is very durable. ProForm Cardio FIT Training Pro comes with a high-tech touch console and 26 powerful levels of magnetic resistance to keep every athlete happy.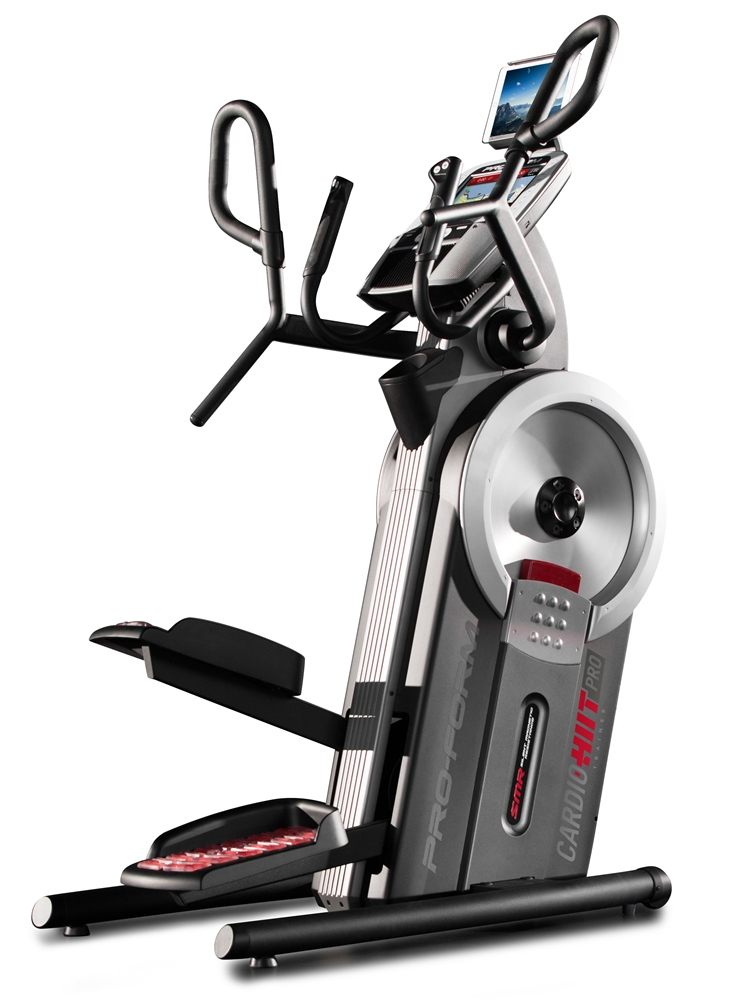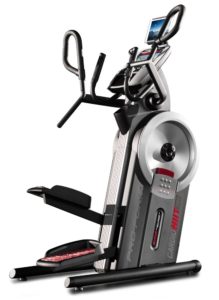 ProForm Cardio HIIT Trainer Pro Overview
Considerations:
Why Cardio HIIT Trainer Pro is better than Cardio HIIT Trainer
The ProForm Cardio HIIT Trainer Pro has 26 resistance levels (26 vs 24).
The flywheel of ProForm Cardio HIIT Trainer Pro is heavier than the flywheel of HIIT Trainer (30 vs 28).
Warranty of ProForm Cardio HIIT Trainer pro is much better (service life, 5 years of parts and 2 years of labor versus service life, 3 years of parts and 1 year of labor).
The ProForm Cardio HIIT Trainer Pro has a 10-inch Smart Touch display with a high-definition touch screen with a built-in web browser that entertains you and allows you to watch videos and browse web pages, and also has two speakers with quick keys for changing resistance. While the Cardio HIIT Trainer has only a 7-inch base console.
Unlike the HIIT Trainer, the ProForm HIIT Trainer pro has built-in static steering wheel controls. (This is very convenient during intense training, because these steering wheels allow you to adjust the resistance and volume of the speaker and you can continue to practice without being distracted by changing settings).
If you want to lose more calories and weight, then we offer you a missile defense model, which costs $ 500 more than the old model. But it is the new model that will allow you to stay motivated and engage on the machine longer. But still, if you have a limited budget, we suggest clicking HERE and find out the cost of the Cardio HIIT Trainer.
What are the benefits of the ProForm Cardio HIIT Trainer Pro over the Bowflex Max?
This hybrid elliptical staircase has the following features that set it apart from Bowflex.
It has an easy to read full-color touch screen and web browser console.
Has a quiet magnetic resistance system (Bowflex is a fan wheel and makes crazy noise).
In addition, it has an adjustable and suitable for devices of any size iPod dock.
Also has a built-in fan for your peace of mind.
The warranty on the ProForm Cardio HIIT Training Pro is also better.
There are more built-in training programs.
You should also know that the Bowflex Max Trainer is quite loud. But despite this, people buy it because of the presence of short intervals of resistance. And in fact, if you want to make short intervals that include resistance, I recommend the Bowflex Max. Therefore, if you want to know the prices, then click HERE.
You should go for ProForm HIIT Trainer Pro elliptical if
You have no health problems. In addition, we do not recommend using it if you are over 60 years old.
You are not comfortable with your weight and want to lose weight as quickly as possible. ProForm HIIT Trainer Pro helps burn more calories compared to traditional elliptical ones.
Your home is not big enough for intense training. Proform HIIT Trainer Pro occupies half the space of a traditional cross trainer.
You like rock climbing. The compact elliptical trainer Proform HIIT Trainer Pro offers a 10-inch slope that will help you prepare physically and mentally for a walk along the incredible hills and mountains with a panoramic view the next time you will have the opportunity.
You should NOT go for ProForm HIIT Trainer Pro elliptical if
You have a health problem. HIIT Trainer Pro is absolutely not recommended for people with high blood pressure or heart problems. I would also not advise this machine to trainees with kneecap problems. These newcomers are better off working with a cardio machine, such as the Body Solid E300, with less intensity.
Your height is less than 5.3 ″. Since we take care of you first of all, we are not sure that it will be pleasure for you and you will get all the benefits of the ProForm Cardio HIIT Trainer Pro due to the height of the steps and the distance between the steering wheel and pedals.
Your height is too big. To find out if the Proform Cardio HIIT Trainer Pro fits your home, add 15 ″ to your height and see if it reaches the ceiling. If you want an elliptical, shorter vertical, see Body Solid E300.
What is special about Proform Cardio HIIT Trainer Pro
the ProForm HIIT Trainer Pro will reduce you twice as much space as any traditional elliptical trainer;
the ProForm HIIT Trainer Pro is two in one. It offers the elliptical exercise and stepper exercise;
HIIT Trainer Pro has a high-tech console through which Bluetooth connectivity is possible;
its work is quieter and smoother compared to competitors.
ProForm Cardio HIIT Trainer Pro Review
Resistance
This elliptical Proform has two levels of resistance more than the first Cardio HIIT, which has 24 resistance levels. The resistance is Eddy Current Magnetic. It works quietly and its parts do not wear out. All this makes him the best type of resistance on the market.
The type of resistance is one of the reasons the ProForm Cardio HIIT Trainer Pro is much quieter than Bowflex machine. Bowflex is not recommended for use in the apartment due to the fact that it is equipped with a rather loud fan.
Believe me, resistance can challenge each of you, regardless of what level you are an athlete. You can also change resistance levels using the steering wheel, controls at the bottom of the console, and quick buttons on the sides of the console. And it's very convenient, because you don't need to be distracted and take your hands off the handles in order to change the tension during your intensive training.
Incline and stride
We remind you that ProForm cardio HIIT Trainer Pro is two in one! It combines a fixed vertical path of 10 inches and a fixed horizontal elliptical path of 5 inches. The incline offers challenging workouts for professional athletes.
Like all traditional elliptical trainers, HIIT Training Pro gives you the opportunity to feel a zero hit so that there is no pain in your joints and back. This mixed movement offers cardio and also helps to gradually increase strength. Note: both tilt and pitch are fixed and cannot be adjusted.
Console
What makes the HIIT Trainer Pro truly unique compared to all similar machines? And it's all about the functionality of the console! Namely, it is about a 10-inch HD touch screen with a built-in web browser.
As you already understood, our car keeps up to date and is ahead of the competition, therefore the console can connect to WiFi and Bluetooth and is compatible with iFIT, MP3 and iPod applications. How else can you improve your workout? Open your favorite website or YouTube channel and watch interesting videos or films that you have probably been putting off for a long time, right during your workout. Thus, you combine business with pleasure! And if you want to find out how effective your training was, just swipe your finger across the screen and you will see your statistics of works.
If you like to motivate yourself, then know that the data will be displayed right on the screen. This will help you achieve your goals even faster. However, this is also one of the reasons the HIIT Trainer Pro is $ 500 more expensive than the HIIT Trainer.
Note: if you want to connect an iFit subscription, then you need to pay an extra 200 dollars. But I will be honest with you, I think this is a waste of money.
After all, this machine is unique and already has a lot of training and functionality. In addition, no one forbids you to open any video, for example, on YouTube and enjoy cardio workouts.
User profile
If you want to have full control over your workouts, then you need to install the iFit application. The fact is that ProForm cardio HIIT Trainer elliptical does not have a built-in user profile in the console. Therefore, you will not be able to view training data, as it will not be saved. I think you will agree that to see your results, especially at the initial stage, is very important for motivation.
Note: In addition, this application is free, so you simply must install it. So, it is very simple. Download the iFit app, and then connect it to the console via Bluetooth.
Pre-installed program
You will definitely not be bored! There are as many as 34 predefined workouts on this machine. And believe, this is enough for you to train for a long time.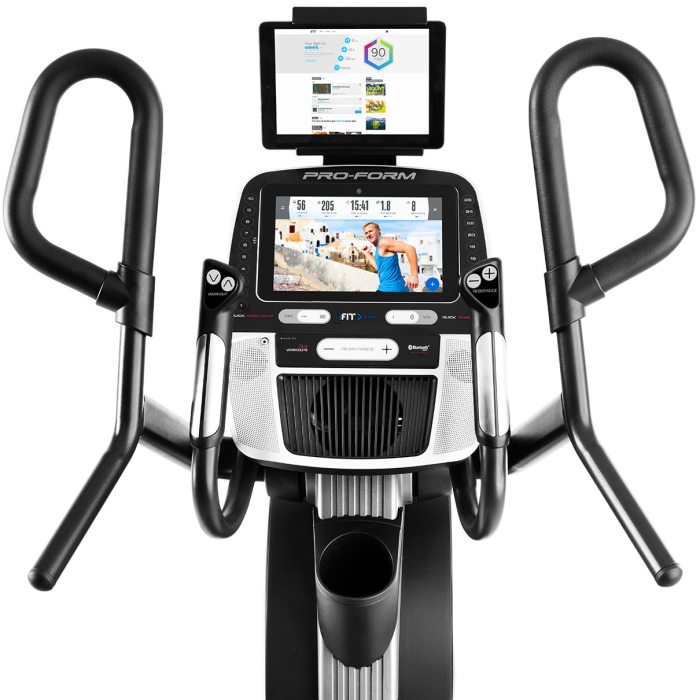 The console displays the following stats
Calories and calories per hour;
Distance, miles, and kilometer;
Heart rate;
Resistance level;
Red Hat Package Manager;
Time is up and left;
The vertical distance you have pedaled;
Speed.
Speaker and fan
Do you like listening to music? Then we have good news for you! The console has a good sound system. If you want to listen to music from your device, then you just need to connect your iPod or MP3 to the console and enjoy your favorite songs and tunes.
In addition, the console offers a cooling fan that will help you much easier to reschedule your workout. But if you do not need it, you can disable it.
Steering wheel and pedals
The ProForm Cardio HIIT Trainer Pro offers you multi-function handlebars so you have 4 different handles. This will help to stay motivated and train on the machine longer. It will also allow you to train harder on your lower body and core.
However, do not forget that it is the moving handlebars that allow you to complete your whole body workouts and burn more calories.
By the way, another advantage is that you can change the resistance and increase or decrease the volume of the music without taking your hands off the machine. That's because stationary steering wheels have built-in controls and heart rate sensors.
Note: Know that if your height is below 5.3 inches, then it will be inconvenient for you to use the moving handlebars.
The HIIT Trainer Pro has two non-slip, shock-absorbing, oversized pedals suitable for any size foot. The large size provides stability and allows you to change the position of the legs as you like.
More information on ProForm Cardio HIIT Trainer Pro
| NAME | CHARACTERISTICS | NAME | AVAILABILITY |
| --- | --- | --- | --- |
| Strength | ★★★★★ | Display: | Back-lit |
| Average Rating | ★★★★☆ | Compact: | Yes |
| Guarantee | ★★★★☆ | Flywheel: | 30-Lb |
| Console: | ★★★★☆ | Bluetooth: | Yes |
| Customer Service | ★★★★☆ | Power supply: | AC-Adapter |
| Machine Weight: | 210 Lbs | Folding: | No |
| Incline Ramp: | 10″ Fixed | Bottle Holder: | Yes |
| Stride Length: | 5″ Fixed | Media Shelf | Yes |
| Resistance: | 26-Level Magnetic | Bidirectional: | Yes |
| Dimensions: | 39L X 29W X 66.7H | Speaker | Yes |
| Max user weight: | 350 Lbs | Cooling Fan | Yes |
| Programs: | 34 | Price: | Check Price |
Mechanism of drive and design
The HIIT Trainer Pro features a 30-pound handwheel, and you can pedal forward and backward to engage various muscle groups. HIIT Trainer Pro is also equipped with an adjustable belt mechanism, that is, you will not need to think about its regular maintenance, and in case of problems it is easy to adjust.
One of the advantages of this device is that it can be used in apartments without thinking that you will disturb neighbors. The fact is that working on the HIIT Trainer Pro is very smooth and quiet compared to Bowflex. In addition, the compact design makes this cardio machine ideal for home use.
Loops of moving rudders are perhaps the only drawback that I could see, they are just small for short exercises. But I hope they eliminate this design flaw in future models.
Strength
Despite the upright position, the commercial steel construction is very solid and stable, and there is no hesitation during intense cardio workouts. Therefore, this machine has a great guarantee.
Power adapter
This machine does not have autonomous power, so you need to plug the power adapter into a power outlet to start the console.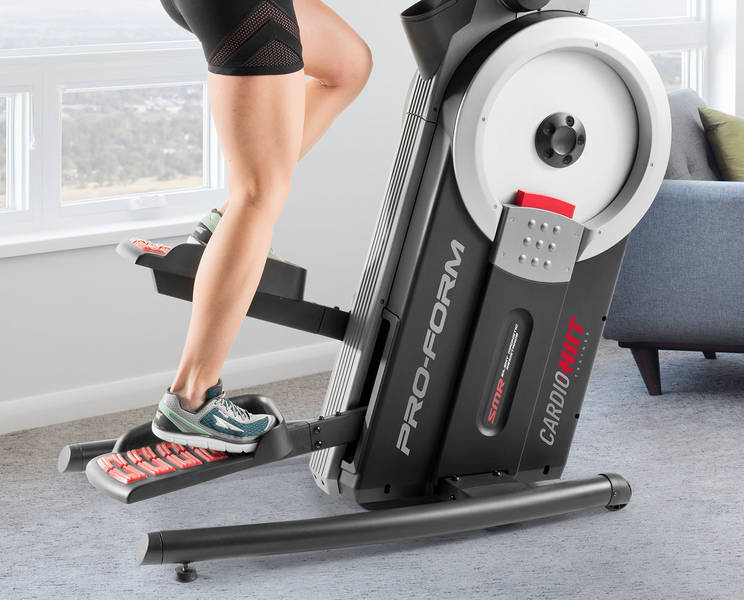 What is included
Adjustable Media Rack;
Easily accessible water bottle holder;
Heart rate monitor;
Transport wheels;
Leveling feet for uneven floors;
Home Use Guarantee;
Frame Life;
5-Year on parts;
2 years of work.
Accessories to consider with Smart HIIT Cardio Trainers PRO
The mat that protects your surface and it will prevent sweat and scratches;
Lubricant to reduce the friction;
Wipes for clean after using the machine;
Pure Green to properly clean the trainer if necessary.
ProForm HIIT Trainer Pro assembly
Do not worry if you are not a professional in the assembly and poorly versed in tools. All you need to assemble is the base, pedals, steering wheel and console. Believe me, it will not be difficult for you. But overall, this machine comes pre-assembled.
But still, I think you will need a second person to help you. You can also follow and follow the ProForm HIIT Trainer Pro build step by step.
Short description of ProForm HIIT Trainer Pro
If you want to see an impressive result in a short time and are ready to train, then the Intensive ProForm Interval Trainer will help you with this. But it costs a little bit more than the basic HIIT Trainer.
So, if your budget is limited, then I recommend that you choose the basic ProForm HIIT Trainer instead of the Pro version. You can get the benefits of HIIT with virtually no effect on your body, unlike some other types of HIIT.
Proform Cardio HIIT Trainer has many advantages, namely it comes with high-quality features, a suitable price and an excellent factory warranty.
But still, the HIIT Trainer Pro has one drawback that you need to report.
With ProForm HIIT Trainer Pro, you do not get short intervals with resistance turned on. This is a pretty big omission of Proform HIIT Trainers. But if this does not bother you, then I certainly recommend you the HIIT Trainer Pro.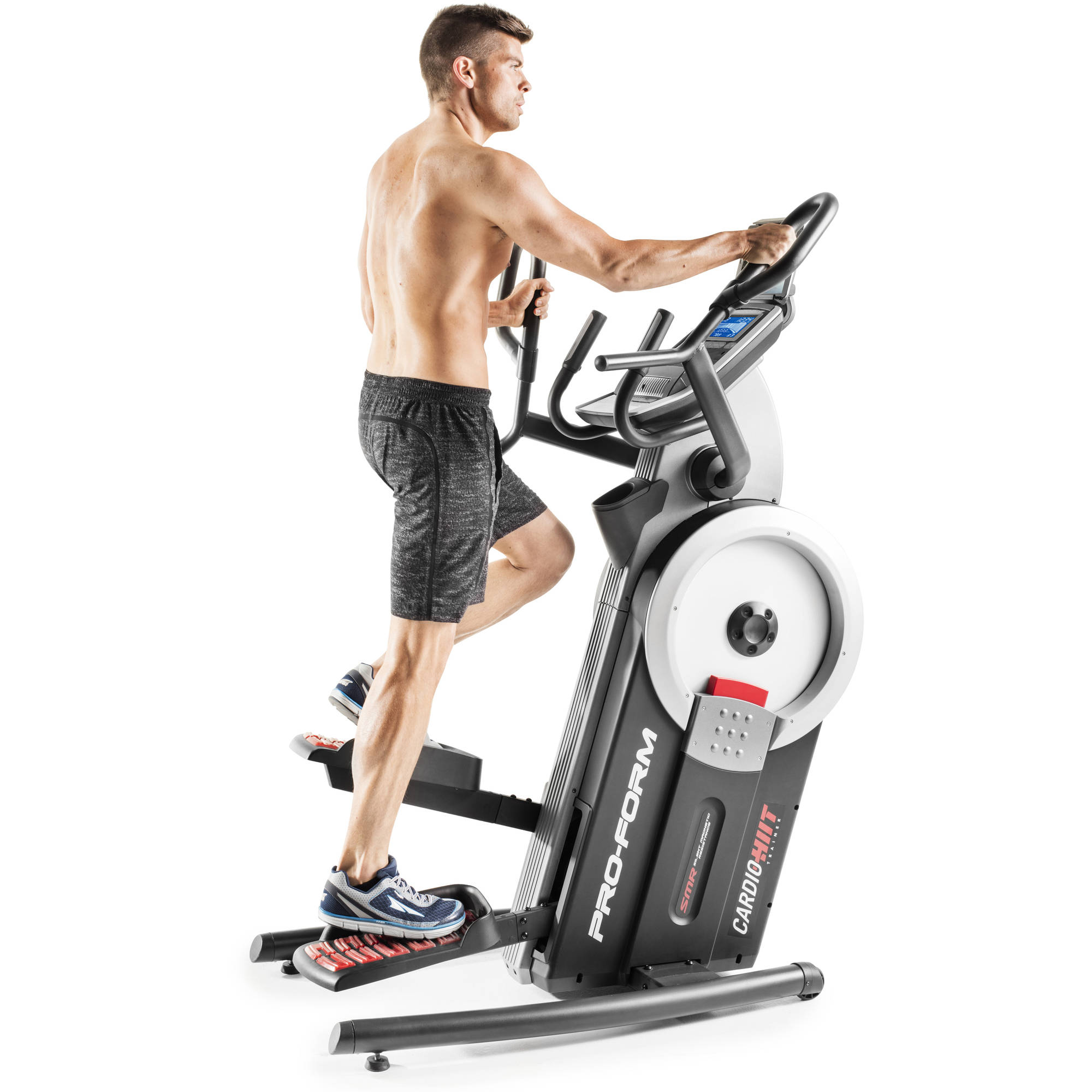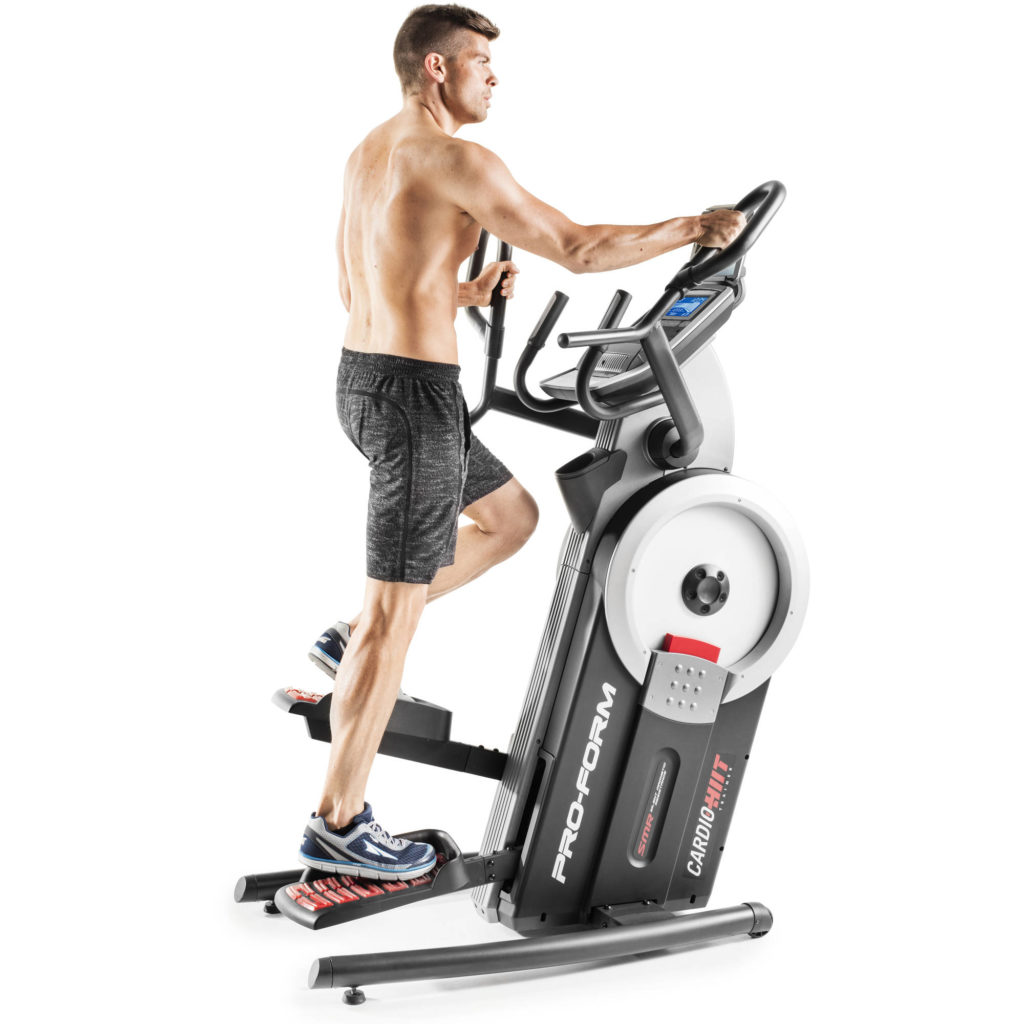 PROS
The compact size and large transport wheels make this machine ideal for home use.
HIIT Trainer Pro is equipped with an adjustable belt drive
ProForm Trainer Pro has 26 levels of magnetic resistance
Multifunctional steering wheels, stationary and moving
Steering resistance control
Wireless and contact heart rate monitor with chest strap included
It has a Bluetooth connection and iFit compatibility.
10-inch Full HD touchscreen with integrated browser
30 pound flywheel
34 preset programs bring a wide variety of intensity levels
Quiet and smooth operation
Long term warranty
Two-speed fan and built-in speaker on the console
Safe adjustable tablet holder
CONS
It does not have a short interval that includes resistance
Fixed pitch
Fixed ramp
It is not self-powered
Moving handlebars are not convenient for users below 5 feet 3 inches.