As you should probably know, home elliptical trainers are not a substitute for a full gym workout. Nevertheless, buying one is a great saving-money solution. The ProForm Smart Strider 495 CSE elliptical trainer has a lot of advantages, which allows it to rank among the best machines for home usage.
This review will analyze in detail all the qualities of this trainer, so that you can make your decision thoughtfully and be completely satisfied with your choice.
ProForm Smart Strider is a home-oriented elliptical machine. It definitely deserves its high position in the ranking of the best elliptical trainers in its price range. This machine does not only have a nice price, but also offers you a wealth of opportunities for workouts.
This model of elliptical trainer is sufficiently light, but still is able to provide you with quite a precise body training. Being an entry-level equipment, it suits perfectly for cross-training. Besides 18'' of fixed stride length, it includes 18 magnetic levels of resistance that allows average users to train comfortably and without excessive noise.
ProForm Smart Strider 495 CSE elliptical trainer also has two pairs of moving handlebars, LED display, EKG heart rate monitor and some extra features, like Bluetooth connection and compatibility with iFit App. That means you can watch for your workout progress via connecting your own devices like tablet, mobile phone or MP3 to the elliptical trainer.
However, it doesn't have the incline ramp, so you aren't able to have a heavy lower body training. But anyway this model will definitely save your space, as it is a very efficient and sufficiently compact machine. It also has several preset-programs, so you'll be helped and guided on the way to achieving excellent results.
For Whom Is It Best Suited?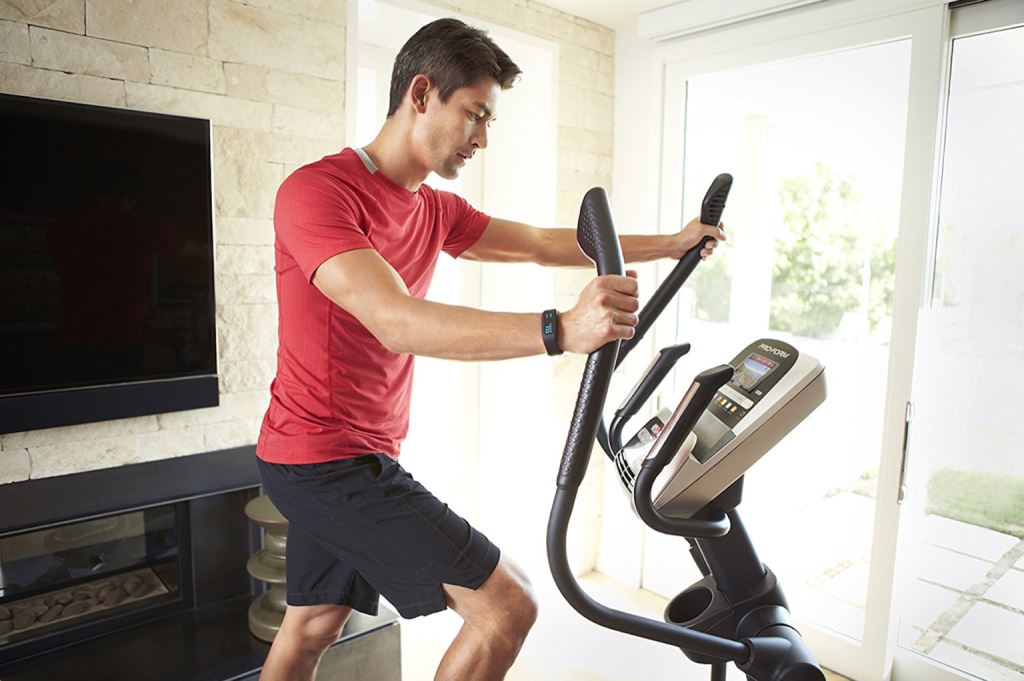 It is very important to choose the right model of a training machine for effective fitness workout. Each model has its own specific parameters that will suit some people, and will not suit others at all. There are some considerations about this model of elliptical that will make it obvious for you whether Proform Smart Strider meets your needs or not.
It will suit you if:
1.You are limited in space. One of the most important details regarding the design of the Proform Smart Strider is its folding and storing ability. You can keep it in a cupboard, a closet or somewhere else when you do not use it. It won't be a problem for you to lift it up and move where it is necessary, as this elliptical trainer is light and has two pairs of handles and wheels to help you.
2.You are not the only one to use it. Not every elliptical trainer can withstand more than one or two hour training a day, especially low-cost models. But ProForm Smart Strider 495 CSE is capable of doing it. You and your family members or friends can use it for daily training one after another.
3.You are beginner or intermediate. ProForm Smart Strider is a quite simple and straightforward equipment. So you won't struggle using it, even if it's your first workout experience. At the same time this trainer meets all the needs of the user who is already familiar with this type of machine.
4.Your goal is to work out upper body muscles. Due to its facilities, ProForm Smart Strider allows you to workout your arms, back and core muscles much more effectively. If you want to focus on these parts of your body, then you can prefer this particular elliptical trainer.
It will NOT suit you if:
1.Your level is advanced. If you are an experienced and serious trainer, you are probably used to the quality of a professional elliptical machine, which you can often find at the gym. Unfortunately, ProForm Smart Strider 495 CSE is a budget model, created for needs of less sophisticated users.
Moreover, you are unlikely to find the trainer you want in this price segment. Elite and serious athletes should look for some more durable and professional elliptical machines.
2.Your height/weight is above average. If you are a very tall person or too overweight, ProForm Smart Strider may not be comfortable for you to use. This elliptical trainer is equipped only with 18″ fixed stride.
So, if you are above 6.3″ in height and more than 275 Lbs in weight, you'll probably struggle to exercise on it. This elliptical trainer has a quite light flywheel and the strength of the frame, as it is designed for an average user. So being an upper-average, you may experience wobbling during intense training on this model.
3.Your goal is to work out your lower body muscles. This particular model of elliptical trainer is not equipped with the incline ramp, so you won't be able to do incline or stair training.
4.You own a gym/fitness club. ProForm Smart Strider is a home-oriented equipment and does not possess qualities for using it in commercial way.
What Is Special About ProForm Smart Strider 495 CSE Elliptical?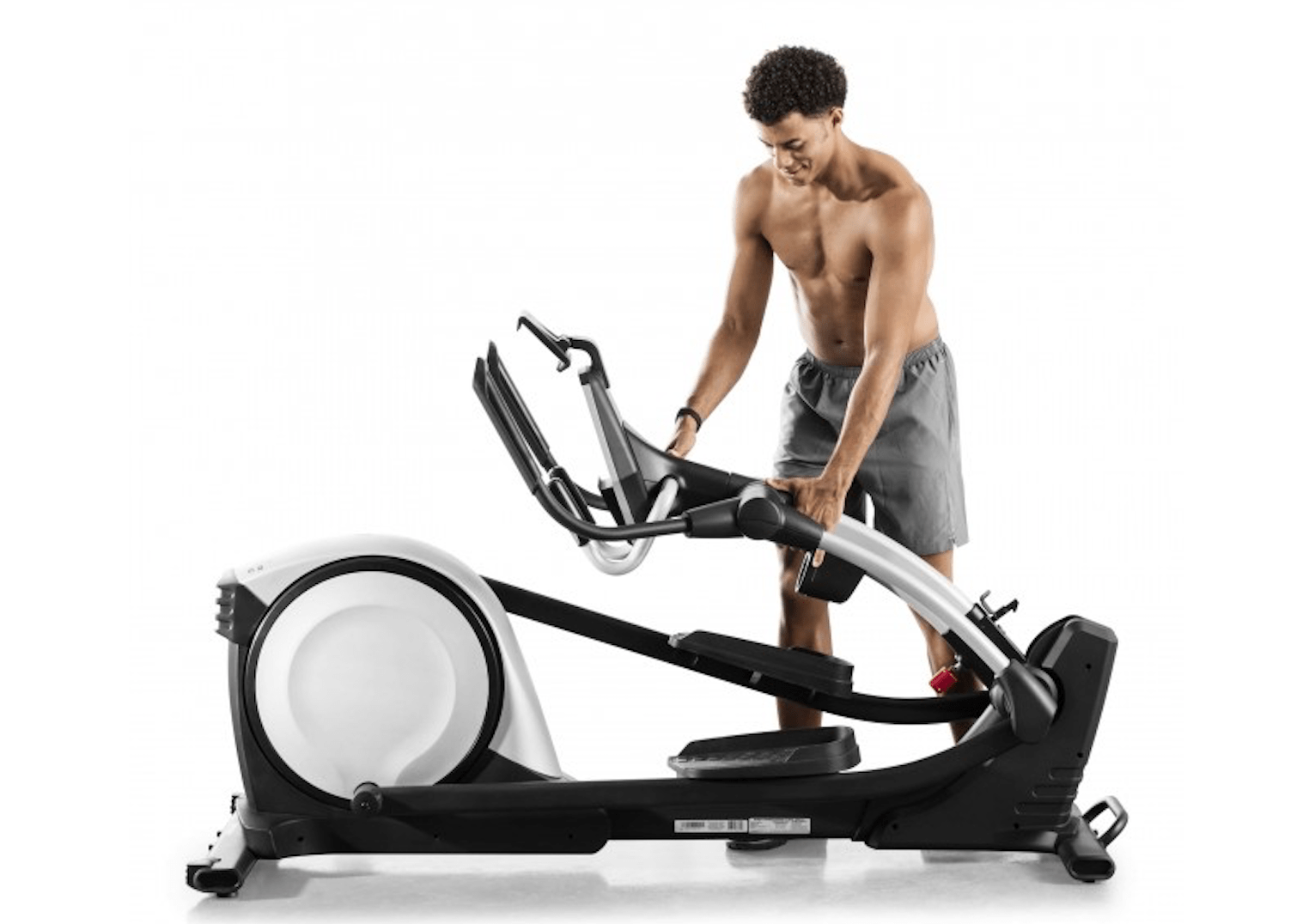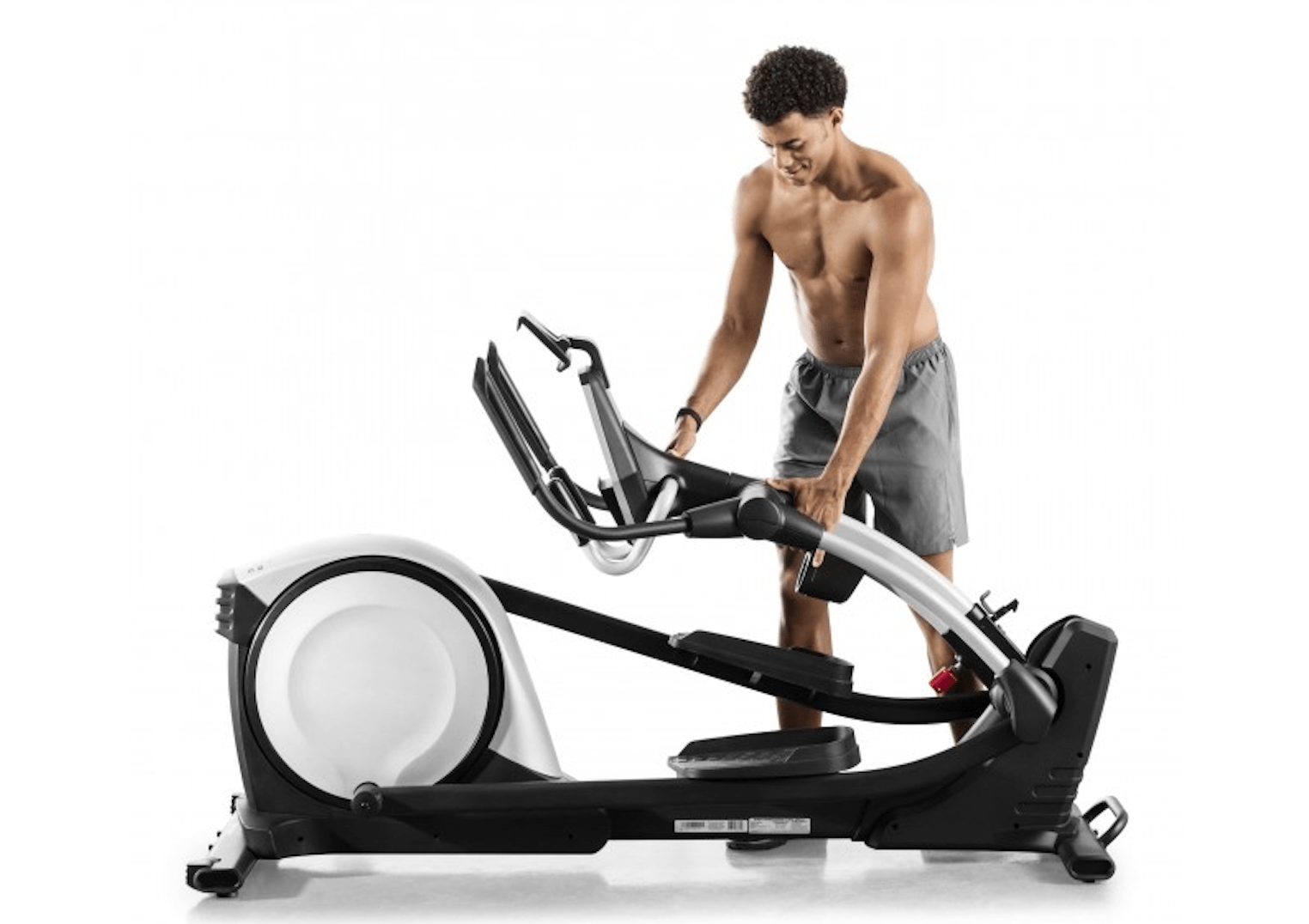 Easy to assemble
Usually, when you purchase your home elliptical trainer, you face the problem of assembling it. Sometimes the process is so complicated that you may need some professional help.
As The ProForm 495 CSE elliptical has a user-friendly design, it also has detailed assembly instructions included. You don't have to waste a lot of time on assembling it, as you can do everything quickly and easily without additional help.
Foldable
This feature is especially appreciated among the models for home usage. The pro form 495 CSE elliptical provides such space-saver opportunity. Everything is thought out in its design, even wheels for easy transportation.
It will take you one move to fold the machine and put it upright: just hold the handles and then lose the knob on the bottom of its frame. That's why this elliptical trainer has all the advantages both of a full-size machine and a light compact equipment.
Sturdy
The strength of the constructed steel frame is what makes this elliptical machine reliable and durable. The ProForm is one of the best budget ellipticals in this respect. That means, you are free to exercise with the intensity you need. This machine will provide you safety and wobbling protection, unlike other lower quality models.
Bluetooth-enabled
ProForm Smart Strider is a new generation fitness trainer. Therefore, you can synchronize your mobile devices with the elliptical machine and track your progress in iFit App. You also get a special program accompaniment for your workouts, access to online training sessions and the opportunity to simulate a trip on the real road through Google maps.
ProForm 495 CSE Features In Details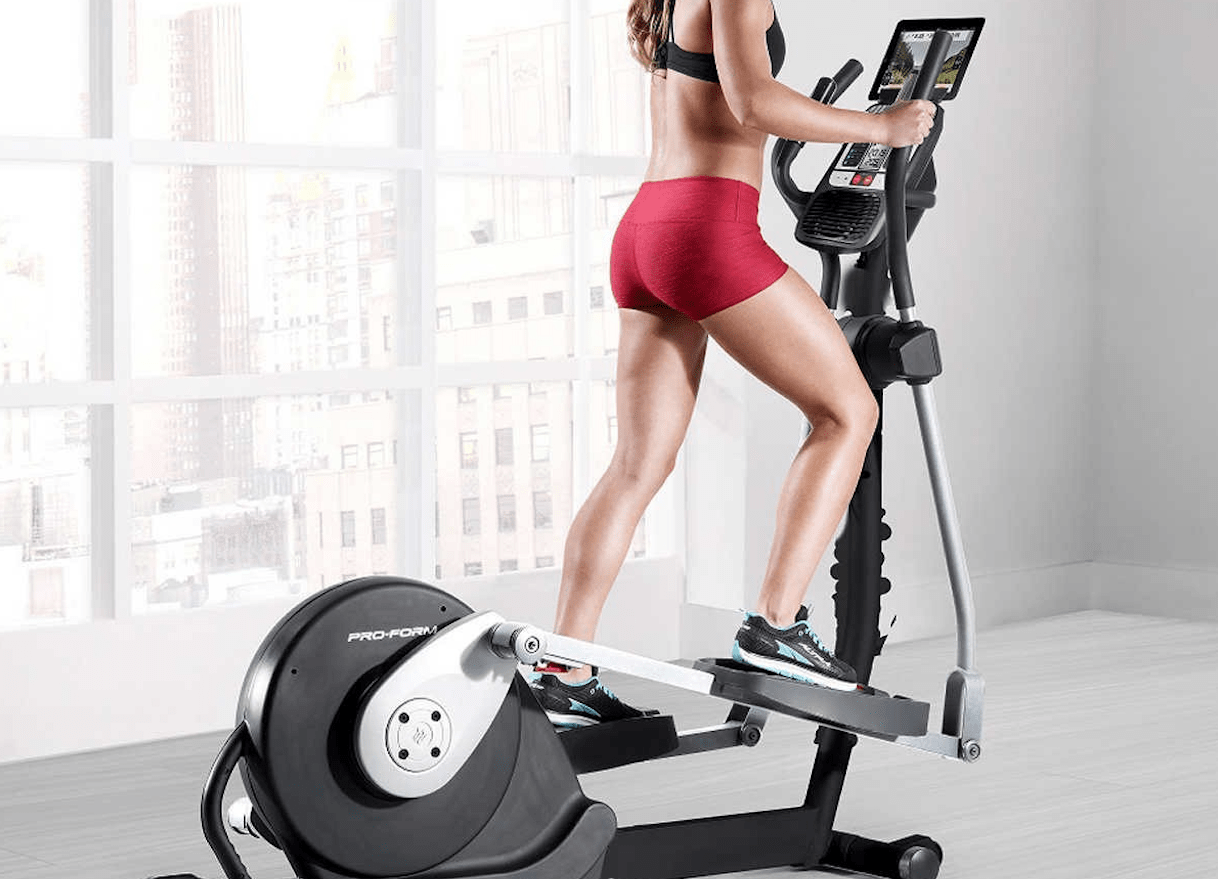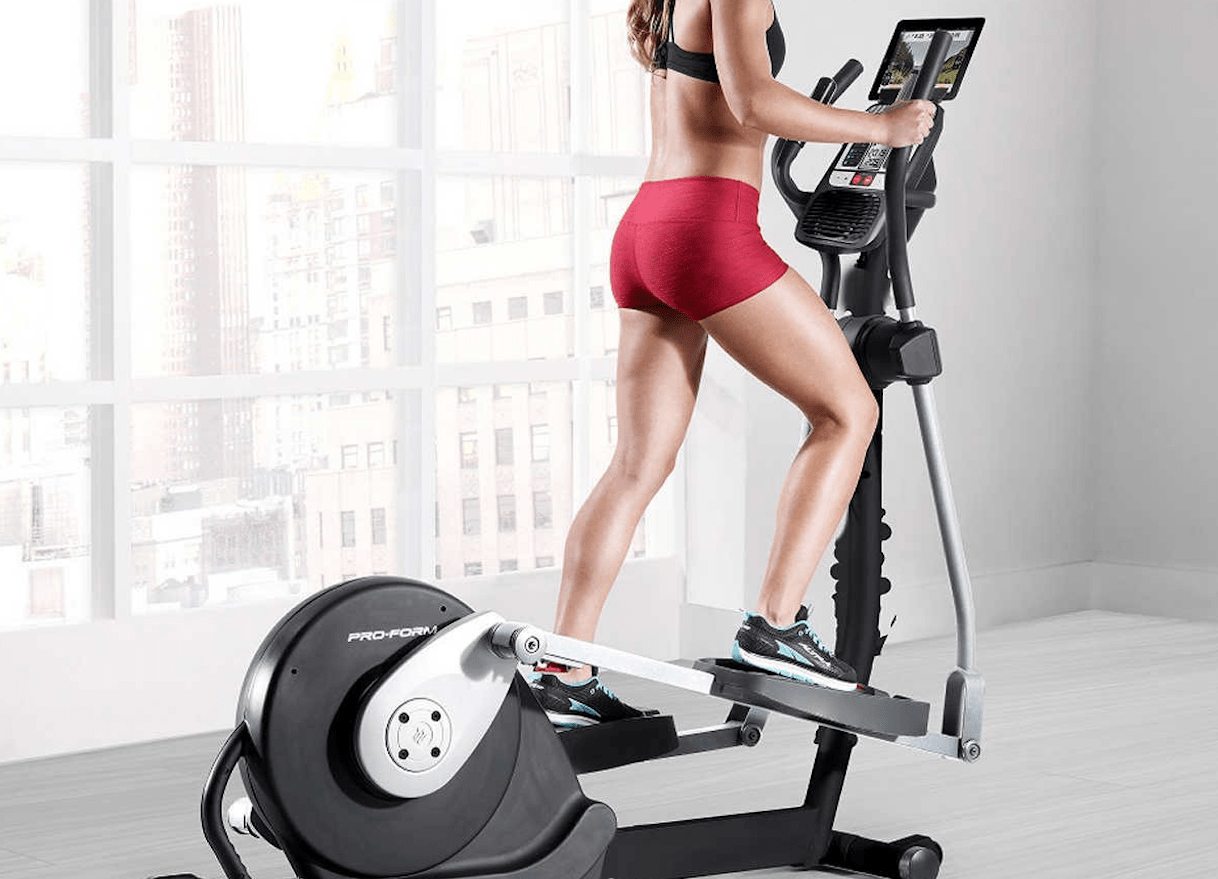 Resistance
A decent feature of the ProForm Smart Strider Elliptical is its quiet resistance.This trainer is equipped with 18 magnetic resistance levels, which makes your training silent and comfortable.
Such resistance is sufficient for beginners and more advanced users, who are focused on cardio and light weight training. If you are a professional athlete and want to get a high-leveled load, you won't have enough tension from this elliptical for effective strength training.
This elliptical trainer is convenient for its easy resistance level regulation. There are two options on resistance level control: through the quick buttons or the controls on its console. You can always track the current level of resistance on the LCD display or your mobile device via Bluetooth connection.
Stride
The ProForm Smart Strider has 18'' of non adjustable stride length. This way, your height should be from 5'' to 6.3'', if you want to have a full stride motion. Otherwise, this elliptical can not guarantee you a convenient training, as it's unable to stretch the strides. This may only suit you if you prefer shorter strides motion.
Incline
This ProForm Smart Strider elliptical is not provided with enough incline ramp for a full strength training of the lower body muscles. If your goal is to workout that particular part of body muscles, you should probably search for another model of elliptical trainer.
Console
Tracking performance is an important point of workout. Console design of this elliptical trainer is pretty standard but functional. It can display all information about your training, showing each indicator one after another: average heart rate, resistance level, distance, total strides, watts, speed and calories. If you want to observe all the data at the same time, you can plug in your phone or tablet to the ProForm Smart Strider and see every indicator at once.
User profile: this function is not performed by the training machine itself, but by the iFit app, which can be installed on your mobile device;
Preset programs: there are 9 burning calories programs and 9 performance modes for your most highly effective workouts;
Heart rate: you can check the current level of heart rate with EKG pulse monitor built in static handlebars;
Speakers: you can listen to your favorite music straight from the trainer using two integrated speakers, which are compatible with MP3 or your phone.
Pedals
The pedal's size of 18'' is the most optimal for the average user: it is enough to find the right foot position in most of the cases. This elliptical trainer offers you comfortable foot conditions, so you can withstand the longest workouts.
Handlebars
The ProForm Smart Strider 495 elliptical is equipped with both static handlebars and moving ones. Designers have worked on the ergonomics and convenience by adding soft cushions to them. You can easily do any type of training for your upper body using these handlebars. The only inconvenience you may encounter is the possible wobbling of folding handlebars, as they are less stable than solid ones. But it's acceptable for a budget model.
Drive mechanism
This ProForm Smart is set in motion with a 13 Lbs Flywheel, which is inertia-enhanced. This type of drive mechanism is appropriate for its price. It also has the rear drive and allows you to pedal both forward and reverse. In general, such equipment will provide you with smooth and consistent training.
Extra Features and Accessories
There are several extra features, that you may find very appealing:
Integrated device holders, so you can put your phone or tablet in the appropriate position and use it comfortably during training;
Water bottle holder, which allows you to keep a bottle of water nearby to quench your thirst at any time;
Transport handles and wheels, so you can easily fold and store your training machine after workout;
Power adapter, which is an integral part of any set of exercise equipment.
Also, you may purchase some useful accessories to make your experience with the elliptical trainer even more comfortable:
Special mat, that will protect your floor from damage;
Lubricant, which will prolong the operation of its parts and prevent unnecessary noises;
Wipes and liquid, so you can keep your training machine clean.
Warranty
Warranty is an important part that determines the reliability of the purchase. The ProForm Smart Strider 495 CSE elliptical trainer is covered by a lifetime warranty on its frame and 1-year guaranteed service on its parts and labor.
If something goes wrong during the usage of the training machine, you can easily start a return process within 30 days since you've received the elliptical trainer. In that case the only thing you have to cover yourself is a restocking fee of 10% and the return shipping cost.
More Information On ProForm
| | | | |
| --- | --- | --- | --- |
| Console: | ★★★☆☆ | Bluetooth: | Yes |
| Customer Service: | ★★★★☆ | Power Source: | AC-Adapter |
| Sturdiness: | ★★★☆☆ | Display: | Non-Back-lit |
| Warranty: | ★★★☆☆ | Flywheel: | 13-Lb |
| Average Rating: | ★★★☆☆ | Compact: | No |
| Machine Weight: | 183 Lbs | Folding: | Yes |
| Dimensions: | 63″L X 32″W X 80″H | Speakers: | Yes |
| Max user weight: | 275 Lbs | Cooling Fan: | No |
| Resistance: | 18-Level Magnetic | Bidirectional: | Yes |
| Incline Ramp: | No | Bottle Holder: | Yes |
| Stride Length: | 18″ Fixed | Media Shelf: | Yes |
| Programs: | 18 | Price: | Check Price |
Workout Programs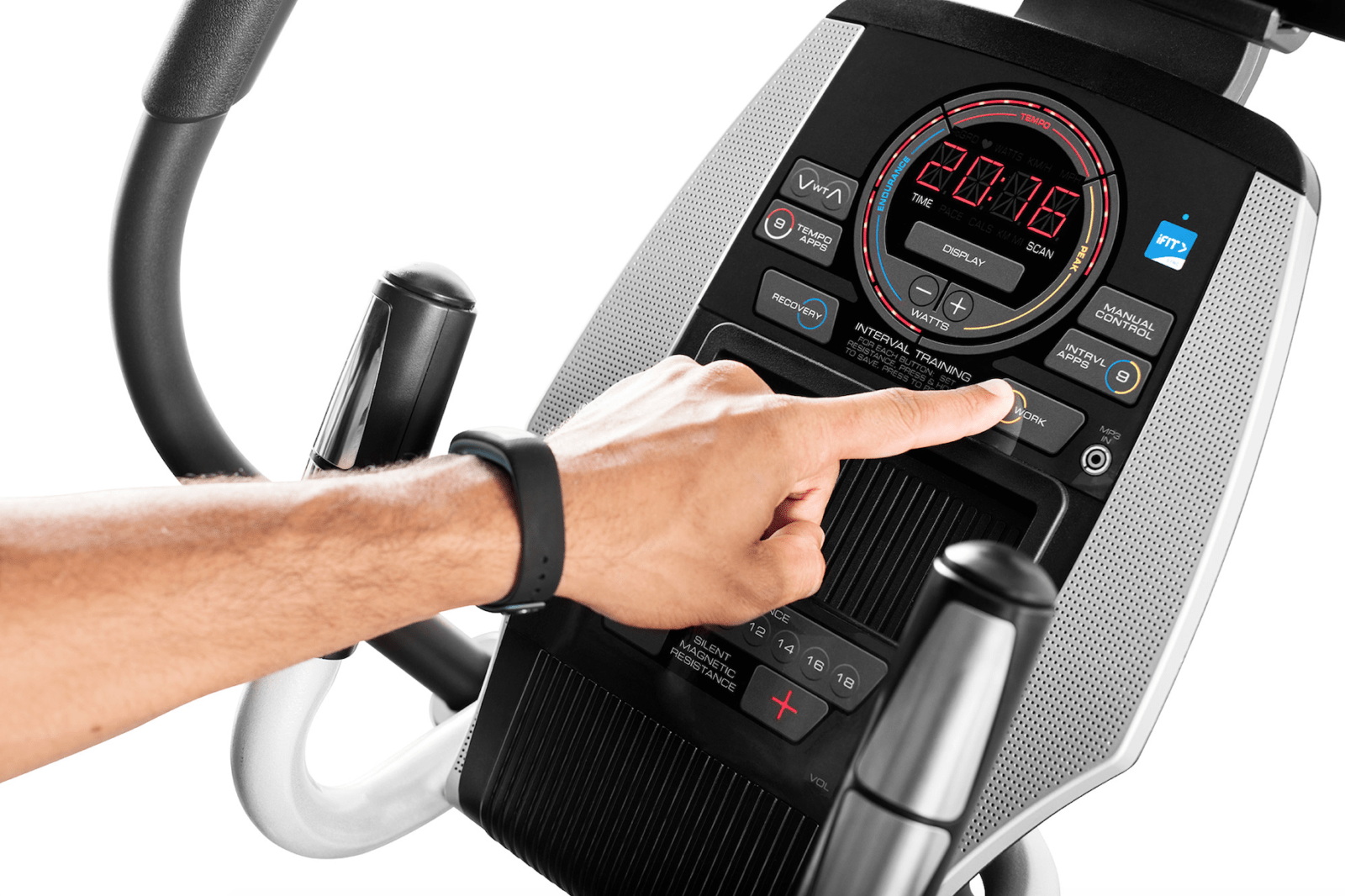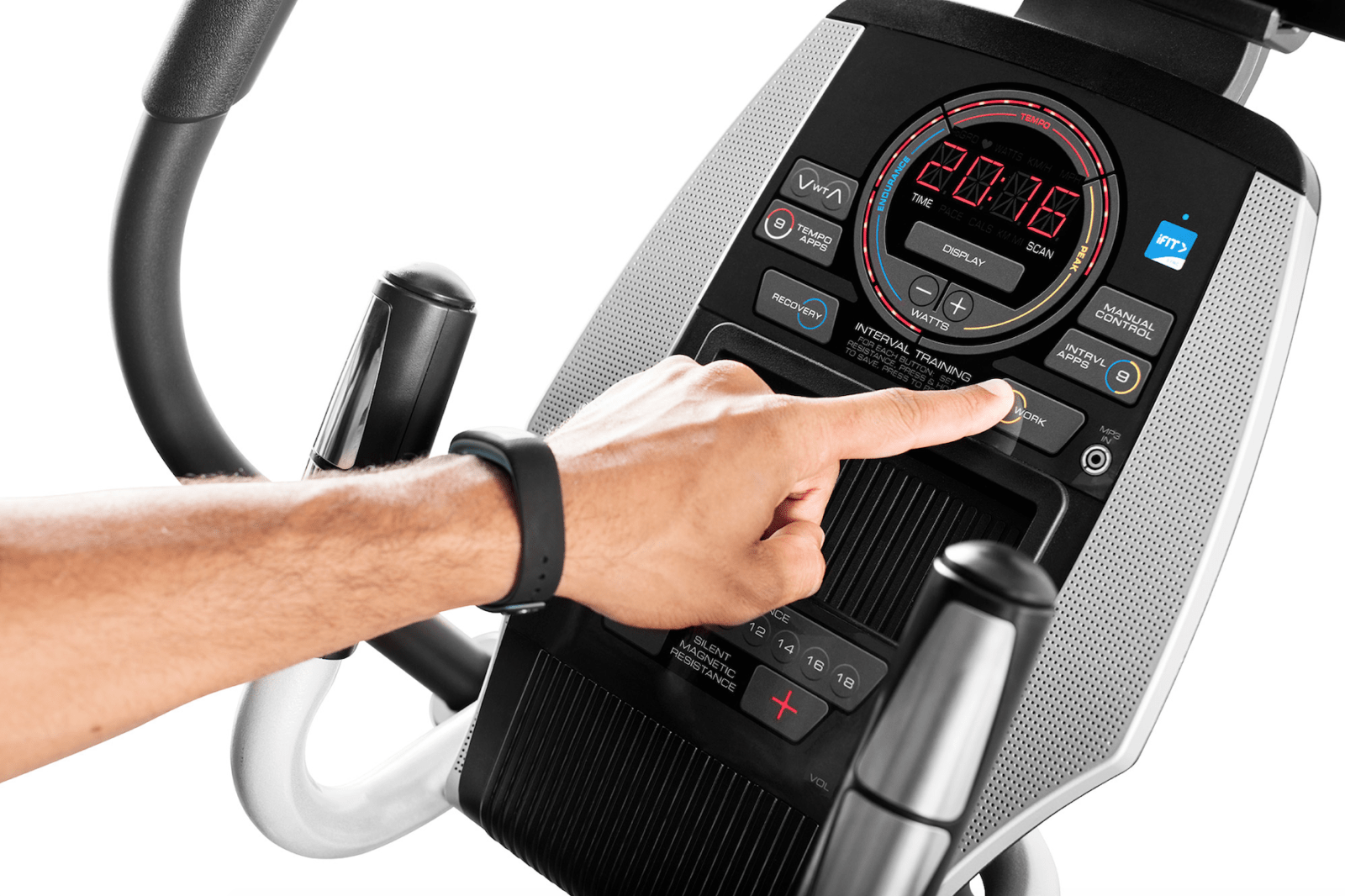 The ProForm elliptical is not just a training machine. It is a whole fitness system that can take your workouts to the next level of efficiency. It was created specifically to make every muscle in your body work.
But particular emphasis was placed on the upper body muscles. You can work out your arms, shoulders, back and core muscles in detail by adding appropriate resistance distribution to your movements step by step. Moreover, you can enjoy the process of low-impact training as well.
The complex effect is achieved both due to the structural capabilities of the elliptical trainer and the ability to connect to remote devices. With this training machine you have access to the best training programs developed by certified professional coaches.
All you need is to install the iFit App on your tablet and connect it to the The ProForm trainer via Bluetooth. With the guidance of your personal fitness program you'll start moving towards the healthy and beautiful body of your dreams.
Pros and Cons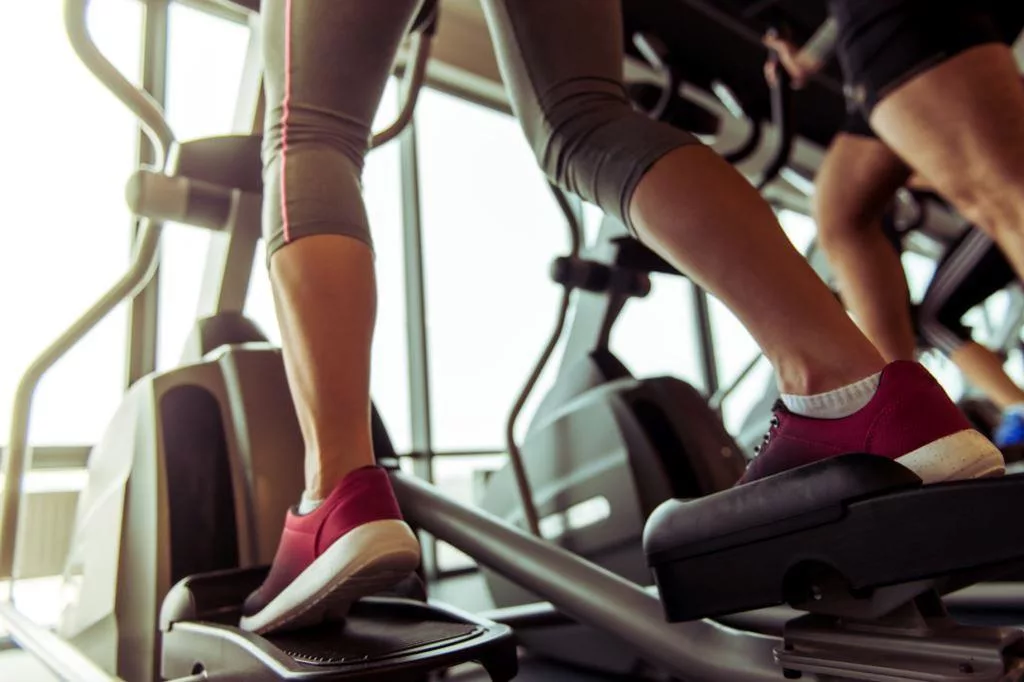 As you have already looked through the complete and detailed list of qualities of the ProForm Smart Strider elliptical, it is time for a quick overview of the information. Before making an important decision, take a look at the summary of strengths and weaknesses of this model.
Pros
Sturdiness of the construction;
Foldable, space-saver design;
Bidirectional;
Pedal stroke with 13 Lbs flywheel;
275 Ibs user capacity;
18 magnetic levels of resistance;
18 workout programs;
iFit App compatible and Bluetooth-connective;
Simple assembly;
Easily folding;
Handles and wheels for transportation;
Heart rate monitor;
Media trays, suitable for the tablet, phone and MP3;
Tablet /phone and a water bottle holder;
Perfect for beginners and intermediate users;
Affordable price;
Valid warranty backup.
Cons
18'' fixed stride may be not enough for tall users;
No incline ramp for lower body workout;
Basic non-back-lit LCD display;
Not a self-powered model;
Rear drive system;
Too Light Flywheel for professional users;
Pedals without cushions;
Only one-year warranty on parts/labor;
No provision of a cooling fan.
Verdict On ProForm Smart Strider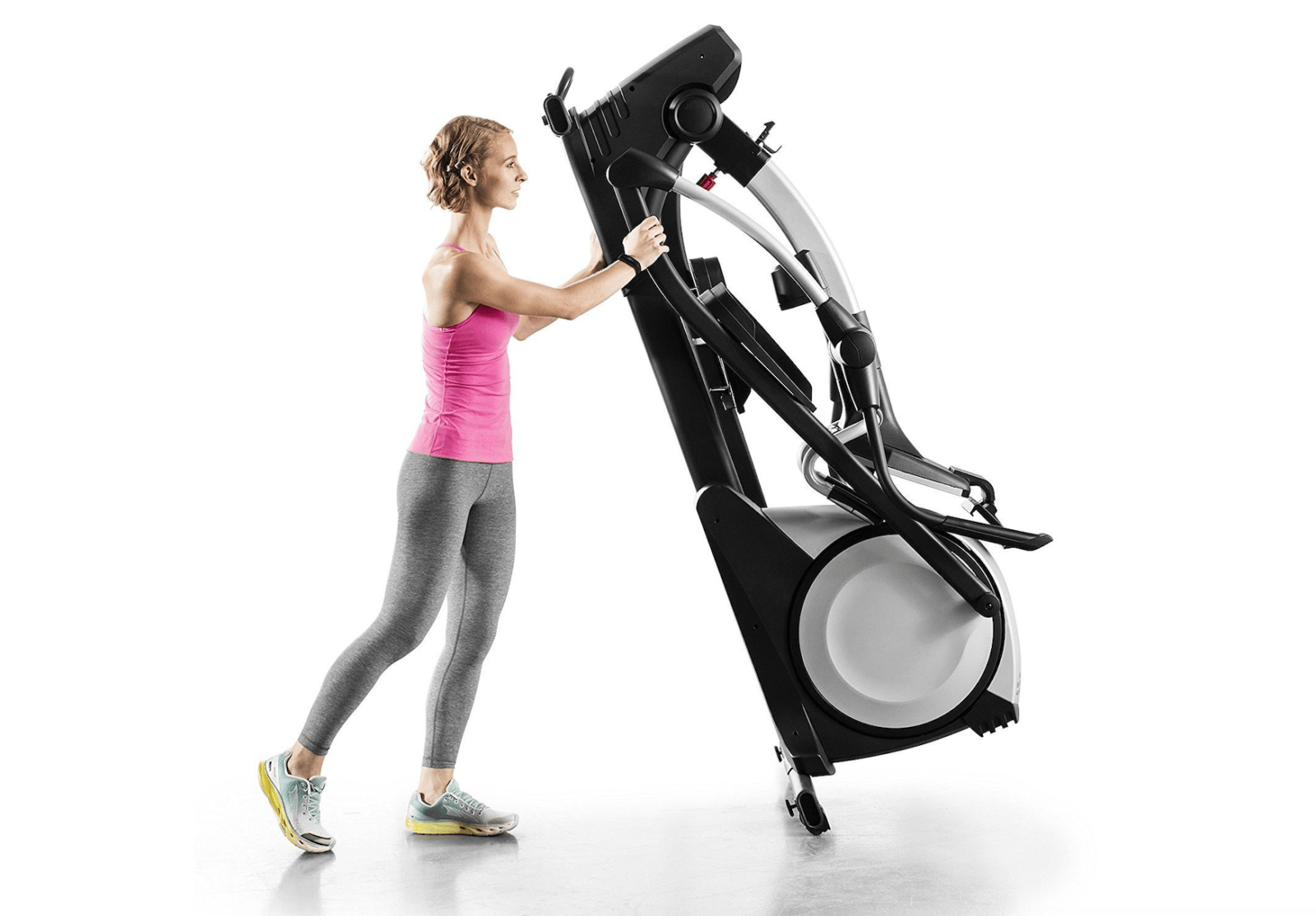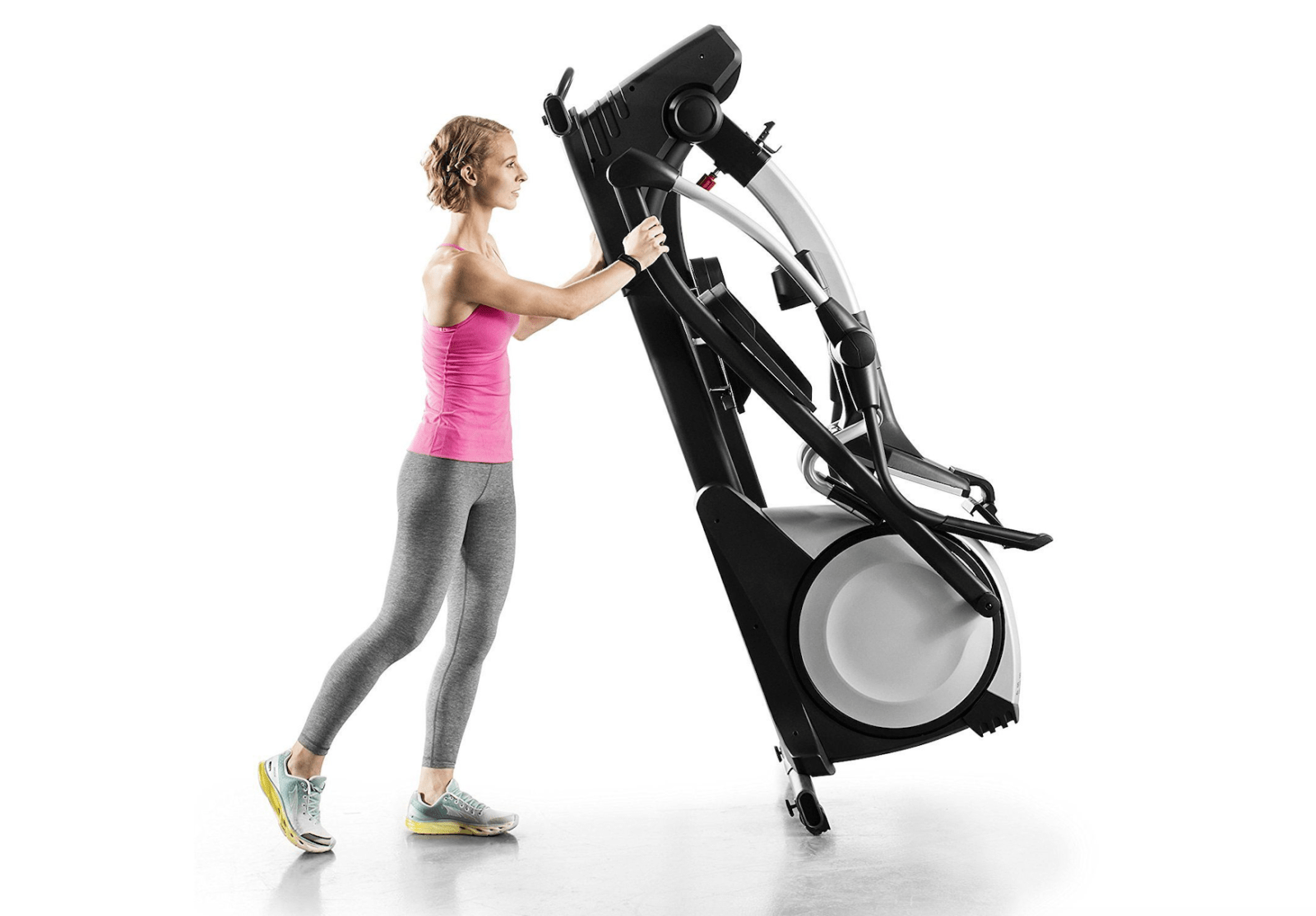 The ProForm Smart Strider 495 CSE elliptical trainer has an impressive number of advantages and some notable disadvantages. If you are a beginner/intermediate user, who is short of space and money and need a reliable space-saver elliptical, the ProForm 495 will be a great solution for you.
For a price below $600 you will get a sturdy well-built machine with a number of impressive features, as compact and foldable design, 18 fitness programs included and 18 levels of resistance, compatibility with Bluetooth devices, built-in speakers and equipping with pleasant and useful accessories. You'll also get access to iFit App's workouts and online travels around the world via Google Maps.
Although there are some features, such as incline ramp, display and resistance, flywheels, which you would like to be better in this model. Anyway, The ProForm Smart Strider fulfills almost every expectation, which you can have about a low-price elliptical trainer. Purchasing this elliptical machine, you'll get a great opportunity to make your body slim, fit and healthy.
Video That Will Help You!