Proform hybrid xt elite trainer includes two machines combined in one. This is a state-of-the-art cardiovascular exercise machine, which is known as one of the most sought-after Ellipticals up to $ 500 in the modern market.
It includes sixteen levels of magnetic resistance without built-in programs, but is able to provide a challenge training for a new user. It offers a small number of significant advantages, in particular small comfortable pedals and a soft seat, work without unnecessary noise and a decent number of resistance levels.
You will not get bored with this simulator, because you will not constantly train using the same method. The console contains a standard small display without a backlight, a small speaker, an audio connector and a holder for your devices.
You can also connect a supported training app via Bluetooth. To keep your motivation in good shape after each new workout, you can choose from a wide range of resistance settings.
However, this simulator also has small disadvantages, such as a completely normal console, even without illumination, it is quite difficult to reach it when you use the recumbent mode, a small guarantee and a small step length.
Despite this, this elliptical boasts a good price-quality ratio, but it is not suitable for everyone. So, Proform Hybrid Trainer XT reviews for you.
Check price
Proform Hybrid Trainer Reviews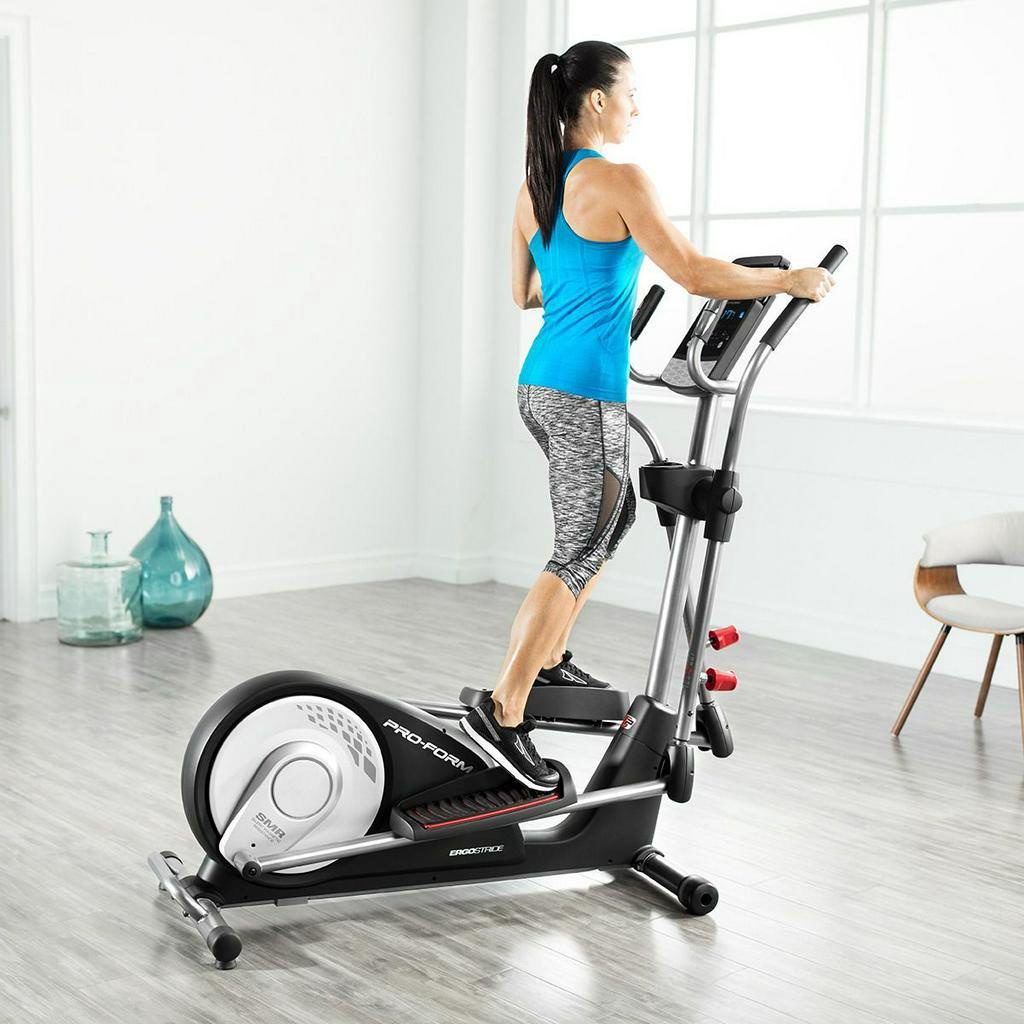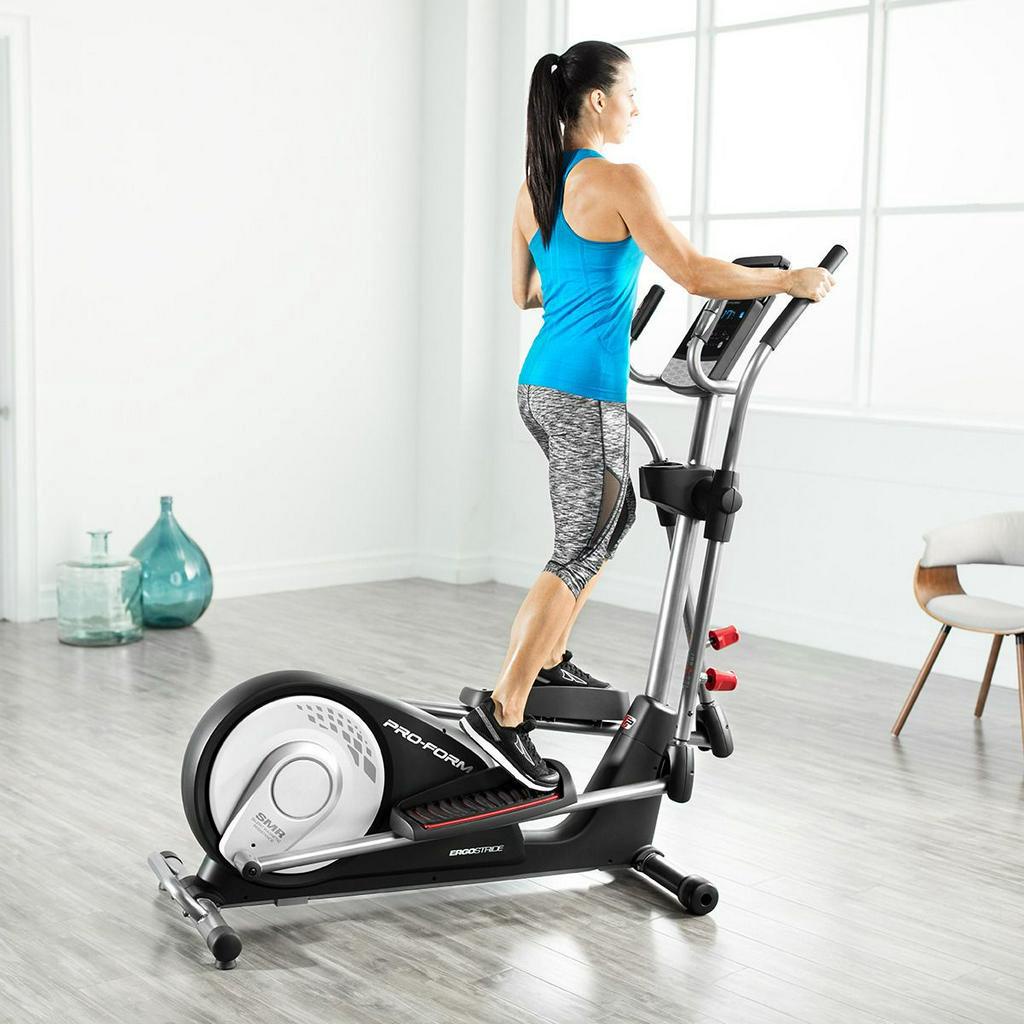 ProForm Hybrid Trainer vs Hybrid Trainer XT vs Hybrid Trainer Pro
There are three models of hybrid simulators from this company. The one we're looking at costs two hundred dollars more than the others. Let's make a small comparison.
1. Hybrid Trainer vs Hybrid Trainer XT. The price is almost the same in most stores. Although there are differences between them. The XT hybrid trainer has seat cushioning. Pedals for recumbent training are separate from elliptical ones. The other functions of the two simulators are identical.
2. ProForm Hybrid Trainer Pro vs ProForm Hybrid Trainer. Resistance is 4 levels higher.
3. ProForm Hybrid Trainer Pro vs ProForm Hybrid Trainer (iFit LIVE vs iFit). IFit LIVE is able to connect your elliptical to the global network using a wireless connection in your home and can help you upload all the necessary training directly to the simulator.
You can also connect the simulator to maps to display new roads that are taken from the world's extensive library of trails in order to simulate running on them or active cycling. A normal IFit simply connects via Bluetooth and will not be able to download programs and route maps.
4. ProForm Hybrid Trainer Pro vs ProForm Hybrid Trainer (tablet holder vs none).
5. ProForm Hybrid Trainer Pro vs ProForm Hybrid Trainer. Traction is improved and the pedals are softer.
6. ProForm Hybrid Trainer Pro vs ProForm Hybrid Trainer (17-inch stride vs 15-inch).
7. ProForm Hybrid Trainer Pro vs ProForm Hybrid Trainer. Soft back against the usual plastic back.
8. ProForm Hybrid Trainer Pro vs ProForm Hybrid Trainer (Lifetime frame, 1-year parts and labor vs 5-year frame, 90-day parts & labor)
So, we were able to clearly determine which model has what and how they differ from each other. Now you can decide which one to choose according to your personal preferences and budget size.
However, if you decide to buy the basic version, then proform hybrid trainer review will help you figure out whether this model is suitable for you or whether you should pass it by.
You should go for the Proform Hybrid Elliptical trainer if:
1. You are just starting out or are at an intermediate level. The hybrid simulator will be a great helper for you if your training is intense.
2. You have a small budget and little space in the house. This simulator is very compact and silent, plus it can offer you a complete muscle workout. These are two full-fledged machines enclosed in one, which means that you will get a full-fledged recumbent simulator in conjunction with an elliptical one.
Thanks to this, you don't have to buy two simulators for a thousand dollars, but spend only five hundred dollars on a single machine that combines the functions of both. Not only will you save your money, but you won't waste a lot of space, which is a good investment anyway.
3. You are currently recovering from a serious injury. This simulator will please you with a low level of load on your back and knees, which is a big plus for those who are currently undergoing rehabilitation. It works effectively and helps you get in shape faster.
4. You simply don't have the space or money to buy two simulators at once. This option is very comfortable and useful, because it does not take up much space in your apartment and is much cheaper than the two simulators that it combines. At the same time, it provides you with a full-body workout.
5. Your partner wants to do recumbent exercises, but you want to do elliptical exercises, and you can't agree on buying a particular exercise machine.
In many families, there is a situation where one of the spouses or family members is either unable due to circumstances, or simply does not want to conduct elliptical training, but the supine position is to his or her liking, because they give less load on the back, and the other on the contrary wants to engage in elliptical exercises.
You should NOT go for ProForm Hybrid Trainer if:
1. You are a high-level athlete with a lot of experience. This simulator is not suitable for professional training due to the fact that it is not durable and its functionality does not allow them to conduct.
2. Shorter than five inches and you only need this machine to do exercises on a recumbent bike. The seat does not allow you to extend it to the desired length forward to comfortably accommodate you in this case.
When you decide to extend the seat to its full length and remove the pedals completely back, you will notice that you are completely uncomfortable sitting and practicing.
3. You need a light ordinary recumbent bike with a console that is not difficult to reach.
If you are in search of the perfect recumbent bike, so that you can sit comfortably and easily read all the information from the display or conveniently switch resistance levels, then you should forget about this model once and for all.
Of course, you can relax on it, but it will not be easy to get to the console. To do this, you should look at the models of excellent recumbent bicycles that are available in a variety of simulators on the market.
4. You want to be online during your training sessions. In order for you to use apps in a virtual environment, you will need to sign up for a one-year subscription, which will cost you one hundred dollars.
At the same time, it is quite difficult to perceive information from the screen, because it is not illuminated from the back side and is located far from the seat.
5. Also, we do not recommend buying this hybrid elliptical for heavy training, as it does not have much stability and will make you nervous with constant fluctuations during cross-training sessions.
What is special about ProForm Hybrid Trainer elliptical
1. The pedals can be adjusted both from the front and back. You can control them by simply turning the handle, which is located directly under the pedals. Therefore, your family members of average height will not have any problems with the ability to set a normal position on this hybrid simulator.
2. Two different simulators in one. You can easily switch from a recumbent position to an elliptical workout in just a few seconds, and it only takes two steps. The first step is to remove the pedals by lowering them, and the second is to change the console position to vertical. You don't even have to completely get off the simulator during these steps.
3. A wide range of exercises for older and younger users. For older people, elliptical training is sometimes not very convenient. At the same time, the recumbent bike is approved even by popular physiotherapists.
Elliptical exercises also tend to get boring over time, especially if your simulator does not have a large number of available options.
This hybrid simulator can also give you the opportunity to relax for five minutes on a light lying workout, and then get up again and supplement the recumbent workout with an elliptical one. This is a unique experience that not every simulator can offer.
ProForm Hybrid Elliptical Review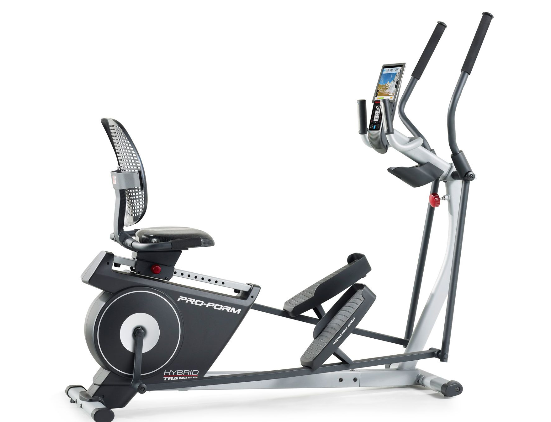 Resistance
This model carries sixteen levels of resistance, silent and smooth. This is enough to please beginners and athletes with little experience who want to fight more. You can easily change the resistance levels using the buttons located on the console itself.
You should keep in mind that the simulator is not equipped with the ability to control the resistance using the steering wheel, so you will have to reach up to the console to adjust it.
Stride and Incline
This hybrid trainer contains a stride length of fifteen inches without an adjustment function. Also, you will not find an inclined frame in the kit, so complex training sessions will not be available to you. The stride length is very short, so we don't recommend using it if you are over six feet tall.
Of course, if you did not buy it for the purpose of using it for recumbent training. As practice shows, training on this simulator is ideal for light and low girls and women.
Console
ProForm Hybrid elliptical trainer has a fairly simple display. It will not be highlighted in blue, as in many simulators of other models, so you will hardly be able to see the statistics if you train in complete darkness.
The display is powered by four AAA batteries. You will be able to see on the screen information about training sessions: the time of the session, the number of calories burned, revolutions per minute, and so on.
Bluetooth and App connectivity
You can easily connect the hybrid simulator to your phone or tablet via Bluetooth and monitor your progress in a special app. This simulator is compatible with IFit, so you can discover access to a small number of programs and individual exercises that are created by professional trainers.
But a subscription to the software library is not included in the purchase price of the simulator, so you will have to subscribe for a year, which costs one hundred dollars.
Cooling fan and speaker
Proform Hybrid Trainer elliptical is not equipped with a cooling fan, but has a built-in speaker. You can connect any player to play music in the background.
Heart Rate
The hybrid elliptical is compatible with a wireless chest strap and is equipped with heart rate sensors that are located on the steering wheel.
Pedals and Handlebars
This model of hybrid trainer has the ability to adjust both the pedals and the seats in front and back to be comfortable for people of different sizes during recumbent exercises. They are quite large and very soft, which makes your training incredibly enjoyable.
You don't need to put your feet in an uncomfortable position, you just put them on comfortable pedals. For some, it is convenient to practice without a belt, although some users prefer it when performing exercises lying down.
Since the seat and pedals cannot be adjusted in such a way as to be too close, low users will not be able to fully reach the pedals, so it will be problematic to choose a comfortable position for training.
Also included are stationary and movable handlebars. This means that you can conduct classes for different parts of the body, just change the set of handlebars.
The simulator is equipped with heart rate sensors, which are located in the handles, however, judging by numerous reviews, they are not quite accurate.
We also want to warn you that you will not be able to use the steering wheel when you switch to exercises in a supine position, and for better stability, you will have to hold the handles on the sides of the seat.
Seat
It is comfortable and soft at the bottom, and the back has excellent ventilation so that you do not experience discomfort during long workouts.
As we mentioned in this article, the seat can be adjusted forward or backward, but you can't adjust it vertically. The seat is a great addition for older users who need at least some support during training.
So, either you are in the process of rehabilitation, or your family member is already eighty years old and just needs a comfortable seat for training, while you are still young enough to train on the elliptical part of the simulator, this simulator can please everyone.
Sit back in the cushioned seat and improve your results while watching your favorite program on TV.
More information on ProForm Hybrid Trainer
| Console: | ★★★☆☆ | Bluetooth: | Yes |
| --- | --- | --- | --- |
| Customer Service | ★★★☆☆ | Power Source: | 4-A Batteries |
| Sturdiness | ★★☆☆☆ | Display: | Non-back-lit |
| Warranty | ★★☆☆☆ | Flywheel: | 13-Lb |
| Average Rating | ★★☆☆☆ | Compact: | Yes |
| Machine Weight: | 115 Lbs | Folding: | No |
| Dimensions: | 63″L X 26″W X 75″H | Speaker | Yes |
| Max user weight | 350 Lbs | Cooling Fan | No |
| Resistance: | 16-Level | Bidirectional: | Yes |
| Incline Ramp: | No | Bottle Holder: | Yes |
| Stride Length: | 15″ Fixed | Media Shelf: | No |
| Programs: | 0 | Price: | Check price |
Flywheel and Drive
The ProForm Hybrid Trainer includes a lightweight flywheel that weighs just 13 pounds, which isn't much, but it's well worth its price. Moreover, this simulator is magnetic, so the weight of the flywheel in this case is not a decisive factor.
This machine is also equipped with a silent belt drive system, so that you do not have to maintain it often in technical terms. Recall that the mechanisms in this simulator work in both directions: back and forth. This helps you develop comprehensively.
In order for this model to be conveniently moved from place to place, it is equipped with two large wheels. You can take the simulator from the back and easily move it to any convenient place in the house.
What's included
Special water bottle holder
Wheels for movement
User warranty: 5 years for the frame and 90 days for spare parts and labor
Accessories to Consider with ProForm Hybrid Trainer Elliptical
Four batteries to power the console
WD40 to reduce wear and friction of moving parts
Sweat Mat on the floor and to avoid scratches
Chest strap for accurate heart rate readings
Rack for placing your device on top of the console.
ProForm Hybrid Elliptical assembly
It is very easy to assemble the simulator, so you do not need a specialist to perform the assembly. The only thing you will need is someone second to hold the simulator during the build. Tools that can be useful to you during Assembly are a screwdriver, an adjustable wrench, and a hammer.
Summary of Proform Hybrid Trainer Elliptical Reviews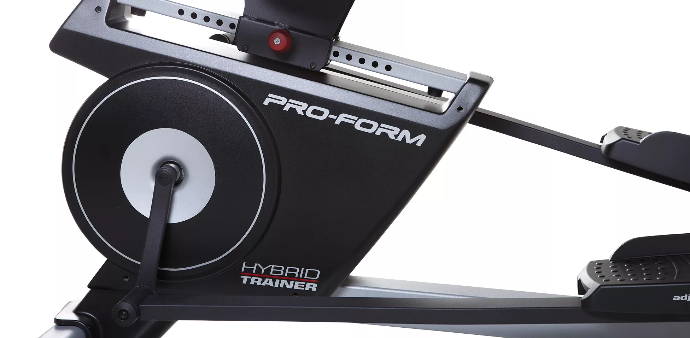 Sum up. If you are under six inches and are not a professional athlete, and your budget is limited, then this model will suit you. You can hardly find another such car with the same set of features in this price range.
The magnetic resistance is very decent, you can even spend a little time on strength training. The simulator is very quiet and comfortable. It can be connected to IFit for Access to cool training programs.
You will not get bored during cardio training because of their variety, which can be obtained using a combination of elliptical and recumbent bike.
When you practice on the elliptical, you do not limit your view, so you can safely enjoy your favorite program on TV, because the console in this simulator is located at the bottom of the steering wheel. However, some functions overshadow the use of this simulator.
The display is dark and unlit, which will prevent you from working out in insufficient room lighting, there are no tilt levels and generally an inclined frame, the step is quite short, but all this for the price of half a thousand dollars, remember this.
If you have an impressive budget or train at a professional level, we can't recommend this simulator to you. If you work on it intensively, it will not last long, and the functionality is quite limited.
Check price
PROS
Two simulators for the price of one
The kit includes a set of steering wheels
A decent set of resistance levels, there are as many as sixteen of them
It doesn't require plugging it into a wall outlet, because the console is battery-powered
Full compatibility with the famous IFit app
The seat and pedals can be adjusted and adjusted to your needs
The price is available for a small budget
The foot pedals are quite comfortable and large, have a wonderful softness
On the simulator, you can practice by moving the pedals both forward and backward.
CONS
The display has absolutely no backlight
There are no pre-installed programs on the simulator
The console does not allow you to create a personal user profile
Step too short
There is no ability to tilt
Short warranty for spare parts
There is no shelf for media, you will have to buy it separately
When you exercise in a supine position, you will have problems tracking statistics on the screen
It is also impossible to measure your heart rate during recumbent training, you will have to buy a belt
Recumbent bike is problematic to use if you are below the stated height.
VIDEO THAT WILL HELP YOU