Category: PRODUCT REVIEWS
Best Rowing Shoes 2023 – Our Choice For You
Unlike running, rowing has nothing to do with your feet and knees, as long as you do all the exercises correctly, of course. Because of this you do not need a thick sole at all. As practice shows, rowing shoes with a flat sole, with little cushioning are better suited for the rowing machine.
According to many trainers, absolutely all rowing equipment should meet the standards of comfort and allow the body to breathe, as well as not constraining your movements.
For people who have difficulty with their joints or people who are overweight, the method of strenuous exercise may not actually be feasible in their situation. This is where rowing machines come to the rescue. This is a wonderful way to effectively get in the right shape.
These machines give you feasible ways to work out for those who find it difficult to do weight-loaded tricks, such as fast running or brisk walking. These exercises are designed to completely replicate real rowing on a boat, when done correctly they do not put stress on your legs.
If you have experienced a rowing machine and your feet do start to hurt after your workout, then you need to think about having the right shoes for your activities. The variation of rowing shoes on the market is quite varied: there are models for men and for women, for those with foot problems and many others.
The ideal footwear for a rowing machine should meet the following parameters: it should be almost weightless, allow feet to breathe, be flexible and have a thin flat sole. We took into account all these qualities, and we have selected for you a list of models of shoes for home rowing machines.
Crossfit includes exercises not only from weightlifting, but also from other sports: gymnastics, weightlifting, power extreme, running and others. Therefore, crossfit sneakers should be versatile.
Features of sneakers
Stable, non-spring sole. Sneakers with foam or gel soles are not suitable for crossfit because they do not provide enough stability during strength exercises.
Sturdy sole. Sneakers with soft soles will not stand up to rope climbing.
Good grip. Running, jumping on a bollard, jumping over the bar, farmer's walk, and power extreme exercises like flipping a giant tire or pushing a sled require good traction.
Air permeability. To keep your feet from sweating in sneakers during the Workout of the Day, the shoe must have a mesh upper and be breathable.
Unlike barbell sneakers, cross-training sneakers have a slight heel lift of only about 4 mm, which makes them comfortable for other exercises.
The sole of the sneaker is hard enough to provide stability, but it also bends well, so it's quite comfortable to run and jump in as well. As a rule, these sneakers have a mesh upper made of textile. This keeps the foot from sweating.
The most famous shoes for crossfit – Reebok Crossfit Nano. Every year they release new models of this line with some improvements like better grip on the sole or new upper material. The advantage of the Crossfit Nano is a sturdy outsole that doesn't fall apart from climbing the ropes.
The sole of softer material sneakers washes away in as little as six to ten climbs. Especially frustrating if you wash out expensive new sneakers.
Also popular among crossfitters sneakers Nike Metcon. These sneakers are liked by many athletes and meet all the criteria of good crossfit shoes: hard and flexible sole, lightweight textile upper, small heel lift and good traction with the floor.
Tip: Buy several pairs of shoes and change them depending on your training goals.
Some athletes work out weightlifting exercises in weightlifting shoes, while WODs are performed in cross-training sneakers or minimalist models if there is no rope in the complex. This approach helps to get all the benefits from the shoes and extend their lifespan.
Best Shoes For Rowing Exercise Comparison Table
| | | | | | | |
| --- | --- | --- | --- | --- | --- | --- |
| NAME | LIGHT WEIGHT | COMFOR TABLE | BREATHABLE | FLEXIBLE | SOLE | DROP |
| Merrell Men's Trail Glove 3 Minimal Trail Shoe | Yes | Yes | Yes | Yes | Thine | Zero |
| Merrell Women's Trail Glove 3 Minimal Trail Shoe | Yes | Yes | Yes | Yes | Thine | Zero |
| Reebok Men's Crossfit Nano 8.0 Flexweave Shoes | Yes | Yes | Yes | Yes | Thine | Zero |
| Reebok Women's CROSSFIT Nano 8.0 Flexweave Shoes | Yes | Yes | Yes | Yes | Thine | Zero |
| New Balance Womens Minimus Running & Rowing Shoes | Yes | Yes | Yes | Yes | Thine | Zero |
| Voovix Women & Mens Barefoot Athletic Trail Shoes | Yes | Yes | Yes | Yes | Thine | Zero |
| Troadlop Mens Hiking Quick Drying Trail Shoes | Average | Yes | Yes | Yes | Thine | Zero |
| ASICS Womens Gel Kayano Running & Rowing Shoes | Yes | Yes | Yes | Average | Thick | 11MM |
| ASICS Gel Kayano 25 Comfortable Rowing Shoes | Yes | Yes | Yes | Average | Thick | 10MM |
| Nike Men's Air Monarch IV Cross Trainer Shoes | Yes | Yes | Average | Average | Thick | 10MM |
Our Picks of Top Rowing Shoes
Merrell Men's Trail Glove 3 Minimal Trail Shoe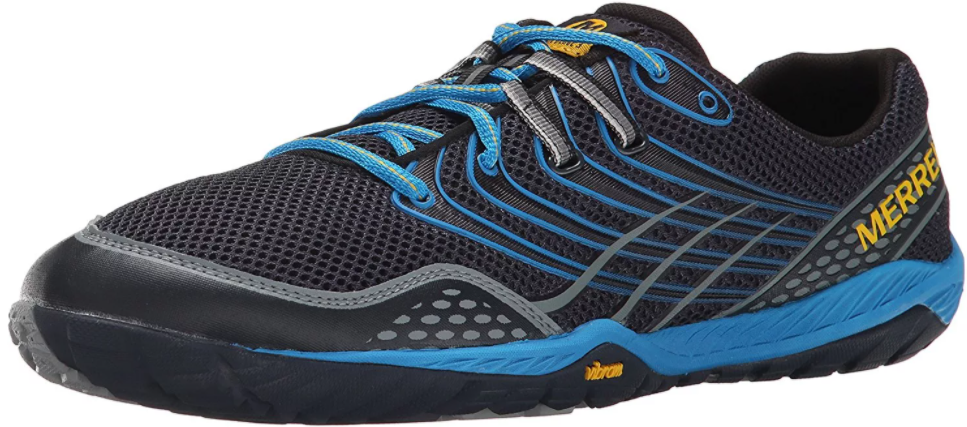 Trail Glove 3 Minimal rowing shoes are designed mainly for running, but who forbids using them as sneakers for paddling training, especially since among the pluses you can find the comfort of the gloves. The upper is one hundred percent textile and the outsole is made of rubber.
Precise fit, similar to gloves, is achieved thanks to the innovative Omni-Fit lacing system, the shoe has reflective elements, it will come in handy for running exercises.
These sneakers are available in sizes 8 to 14. There are four color options: black-blue, black-gray, orange-blue, blue-green.
Comfort and freshness is preserved by M Select FRESH; it helps suppress unpleasant odor. The sneakers are also equipped with a fixed foam insole as well as a padded collar.
Most users admire the original cross-country glove sneakers, and the main reason is that they are made in a fairly simple style and sit on your foot as if you were wearing gloves, but when the third generation of these sneakers hit the market, reviews began to dilute with neutral and negative reviews, especially from running enthusiasts.
Some people say they hold the quality brand and are even superior to the previous generation, while others say that since they added a rather stiff metal support to the model, they are no longer as comfortable as before.
However, the requirements for rowing training sneakers are quite different, and so the pros for our purposes outweigh the cons. Bottom line, we can say that these are an excellent choice of rowing shoes and are generally better than most indoor rowing models in this price range.
Additional Information:
Weight is 9 oz and the measurements for a size 12 are 3mm lug depth and 0 mm drop and 10.5 mm stack height. NB the measurements may vary by size.
Pros
Cons
· The shoes are almost weightless and have their own unique style, there is a variety of sizes, and you can choose from four colors

· Total of 9 ounces.

· We did not find them.
Merrell Women's Trail Glove 3 Minimal Trail Shoe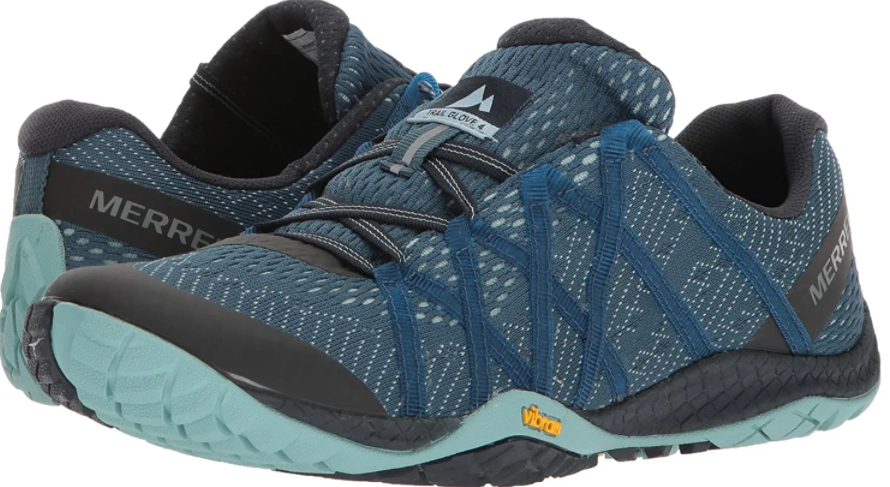 Available in sizes 5 to 11, they're made as minimalist rowing shoes that when you put them on, you almost feel as if your feet are touching the ground without them at all, even though they're not.
Even though they have a TrailProtect™ cushion that provides protection underfoot, the design means that, like indoor paddling shoes, they give you a good feel, and with zero drop you maximize the efficiency of power transfer from your feet to your footpegs.
These shoes have a Vibram TC5+ outsole, made of rubber, quite sturdy, non-slip and made from recycled materials. The upper is made of man-made materials and features a mesh with a special buckle, which is made of lace in a classic style.
To keep you comfortable during your workouts, there is a mesh lining that breathes perfectly. Merrell's rowing machine home training shoes are quite flexible and have an advanced Omni-Fit lacing system that resembles gloves, just like the previous model.
There are nine different colors available, so you'll be able to find a model you like. By the way, these shoes are great for vegans.
Additional Information:
The stack height heel to toe measurement is given as: 6.5/6.5mm and the foot-bed as: 0mm; insole: 3mm; with a midsole: 0/0mm; sole: 1.5 web, and with 2mm lug depth.
Pros
Cons
· Very lightweight, hardly felt on the foot

· They are designed to give comfort to your feet

· Ideal sneakers for rowing training

· There were no detections
Reebok Men's Crossfit Nano 8.0 Flexweave Shoes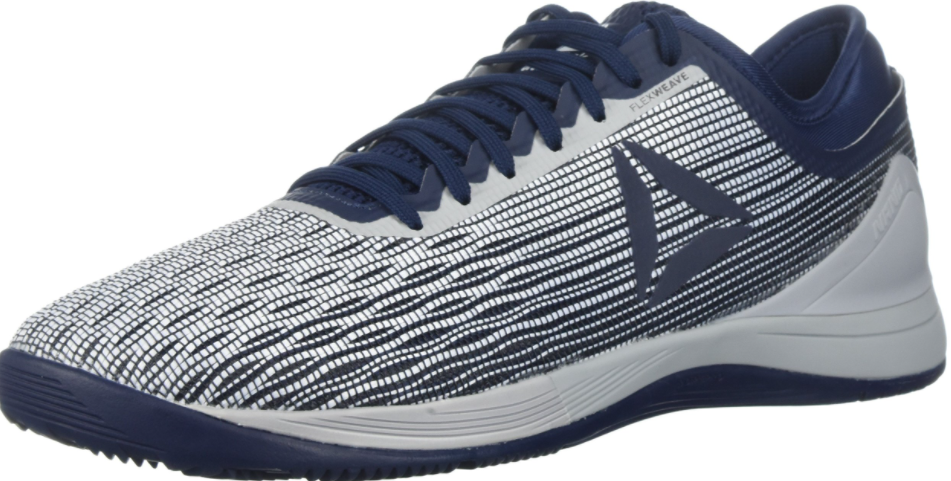 They are made specifically for crossfit with the help of the crossfit community, so they take into account all, even the smallest requirements of professional athletes, this includes those who work out on a rowing machine.
This model is designed to outshine its previous versions, and has been almost completely redesigned, including the upper, to ensure breathability, stable wear and long life, as well as support for your foot.
That's not all of the innovations – we present you a fresh heel boot design, which, if the manufacturer's advertising is to be believed, can give you one hundred percent comfort when walking and also protect your toes during intense activities of your favorite sport. The men's sneakers are made of synthetic and have high durability coupled with a durable rubber outsole.
The soles are cute and sturdy enough but also very flexible, which just gives you maneuverability. The rowing shoes have seven eyelets for a good fit for your foot. It really is a worthwhile choice if you're going to be exercising on a rowing machine. You have a huge range of colors at your disposal, about 19, and sizes from 6 to 14.
Additional Information:
TPU heel wrap, they have a wide toe box, 10oz weight and a 4mm drop.
Pros
Cons
· Made under the control of the cross fit community, it has a wide toe and a sturdy yet flexible sole, suitable for rowing at home
· You may need to calibrate the size a bit, we suggest to take half a size larger

· They do not look good on their own during rowing practice
Reebok Women's CROSSFIT Nano 8.0 Flexweave Cross Trainer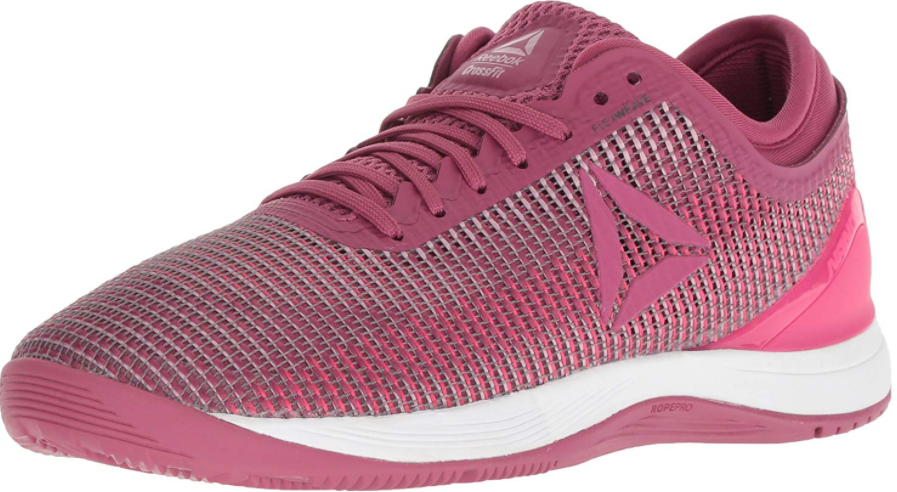 Innovative Flexweave technology gives the sneaker stability, easy airflow, and a flexible effect. This technology allows your shoe to flex better in some areas and stiffen in others, and gives the shoe a comfortable fit that adapts to your foot.
The weightless and flexible material gives good stretch and support, plus there's a low cut designed to increase the mobility of your ankles.
Reebok also invented a new shoe shape for the heel that creates cushioning for better comfort which paired with a very firm and cuddly outsole gives support that protects your feet from unnecessary injury during your workout.
These rowing shoes also have excellent durability. You have Toe Tection to thank for that. The shoes stay on your foot perfectly, don't slip and will be the perfect addition to your paddling gear. There are 21 noteworthy colors to suit even the fussiest lady's tastes and a bunch of sizes available for purchase.
Additional Information:
Weight of the shoes is just 8oz and they have a 4mm drop. Flexweave technology weaves fibers into a pattern similar to the number eight, which contributes to a durable, yet flexible top.
Pros
Cons
· The shoes fit perfectly around the foot, and the comfortable toe allows for comfortable flexion of the foot without injury or damage

· Grip the footwell and keep it from slipping

· The quality of the material guarantees you that these are some of the best rowing shoes

· Not found
New Balance Womens Minimus Running & Rowing Shoes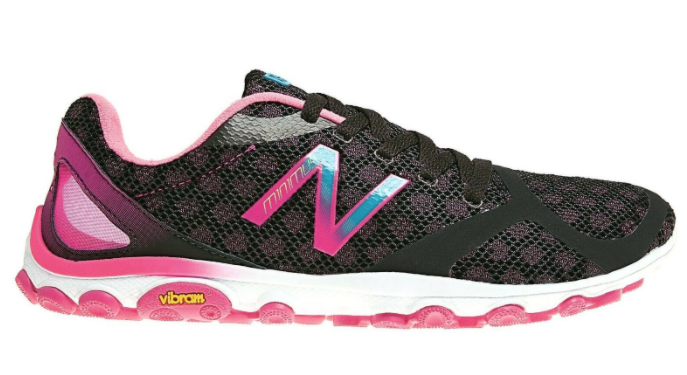 These rowing shoes are made in a minimalist style and are presented as the lightest shoes for cross-country running. Despite this, because of their good traction, durable rubber soles, and low elevation gain, they are ideal for paddling at home.
The upper is covered with a flexible synthetic mesh, and you're also provided with a leather wrap as an accessory to help keep your feet in the position you want. It is this distinctive feature that makes these sneakers a great option for paddling at home.
Color-wise, they don't look as cool as the previous models we've taken apart, and they don't boast a wealth of color variety. There are only six colors available, but all of them are a shade of black.
These sneakers are sold in a range of sizes from five to twelve, models with standard and wide hardware.
Additional Information:
To keep your shoes in pristine freshness, they come with a special anti-microbial agent that fights bad odor. These sneakers have a 4-millimeter height difference and weigh only six ounces, making them the lightest model in our selection.
Pros
Cons
· Sold in as many as two available options: standard and wide, so people with wide feet will be happy to hear this news

· Lowest weight, excellent lightness

· Sizes are a little off the mark, we recommend ordering half the normal size.

· Shoelaces need to be manually re-threaded through each hole, after each wear of the sneaker

· If you're not a fanatic about black, then the local colors will obviously not suit you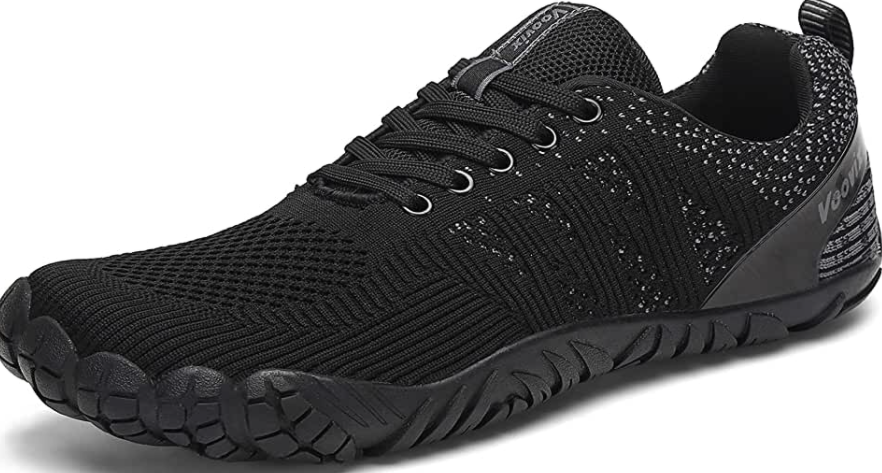 This shoe differs from other models by its special flexibility settings and fits perfectly into almost any exercise program. The knit is very lightweight and lets your feet breathe, and the rubber outsole contributes to the presence of comfort and does not slip at all.
Moreover, they are very easy to fit and take off because of their high flexibility. At your service is a table of sizes so that you can find the right size for you before you make an order, which dramatically increases the chances of buying these particular sneakers, because you do not have to return the purchased shoes if the size does not fit you.
The toe space is quite meticulously designed so that your toes can be lightly maneuvered inside the sneaker. There is a fairly extensive selection in 11 colors, so you can find sneakers that you will love at first sight.
The sneakers have special drainage holes for jogging activities, are great for letting air in and easy to clean after exercise, making them a great choice for rowing exercises at home.
More info:
They really are lighter than most competing models, with a size 11 and ten-ounce weight, so they are still lighter than most sneakers on the market. That said, both the women's and men's versions of these sneakers have passed all quality tests and boast really great material. This is what makes these shoes popular for rowing trainers.
Pros
Cons
· The size chart given to the buyer before buying sneakers is the best solution and really convenient option to find the right sneakers

· They have high flexibility, they are easy to wash after exercise, they also dry quite quickly

· They have zero drop and very comfortable insole

· Can't boast high durability compared to the brands featured in our article
Troadlop Mens Hiking Quick Drying Trail Shoes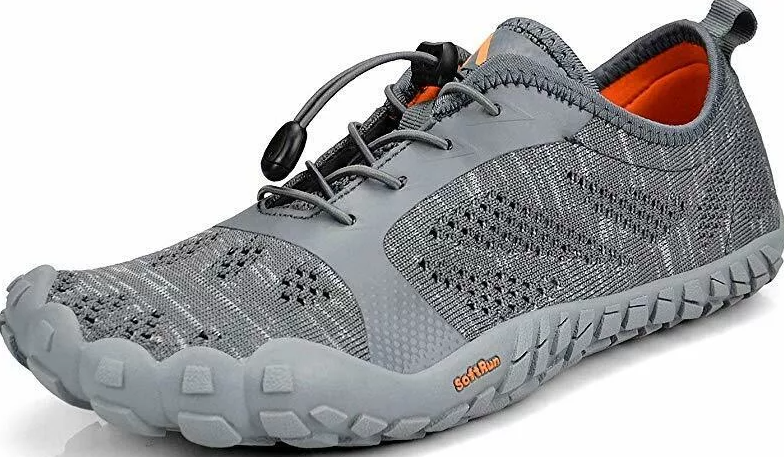 In a nutshell, these sneakers have the following words: an almost weightless knit fabric that gives your feet the freedom to breathe and an incredibly comfortable rubber outsole that will not slip during your workouts.
They are very easy to put on and take off your foot. The company will provide you with a size chart so that you can find the right sneakers for you as easily as possible, which is a huge plus that overtakes their direct competitors in the market who have to deal with frequent returns on purchased shoes.
The toes are in a state of complete freedom of movement, they will always have room to maneuver. The color palette is quite varied and includes 26 unlikeable colors, which will allow you to make the perfect choice and buy sneakers for your style.
The shoes have drainage holes for runners, are breathable and washable, making this one of the best pair of shoes for rowing machine training.
Additional info:
They're still heavier than the competitor models, so if you're looking for maximum ease for rowing exercises, these sneakers aren't likely to help you. Nevertheless, these sneakers are enviably popular for their quick drying time and are ideal for rowing shoes.
Pros
Cons
· The company provides a size chart so customers don't have to worry about returning their purchases later

· Has graceful flexibility, easy to clean up after long sessions and dries quickly

· Zero drop

· One of the heaviest choices provided in our selection
ASICS Womens Gel Kayano Running & Rowing Shoes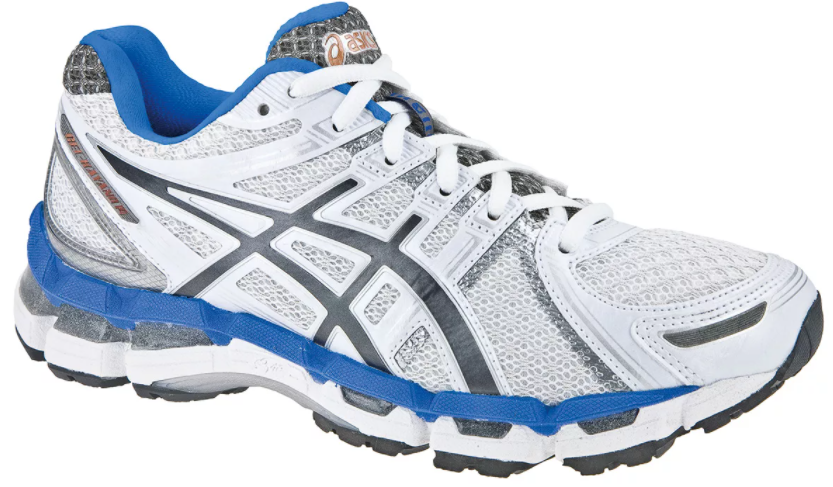 When you type in a search for rowing sneakers, these sneakers often come up in the results, and indeed they have interesting features that make them sneakers suitable for rowing. You have a choice of 21 colors to choose from, from different variations of black to fluorescent cute models.
During the development, gel technology was used for both parts of the foot, which helps to keep the right rhythm when running, and another interesting advantage of these sneakers is the special technology that gives your feet unforgettable comfort with the help of a soft platform.
These sneakers are manufactured using an innovative point-to-point method, so you won't find any seams on them that will put pressure on your foot or rub on your blisters, and the eyelets located throughout neatly sort out all the pressure exerted by the lacing. This creates the feeling that the sneakers were made just for your needs.
The women's version features an inwardly included flexible sleeve that fits around your feet, making it feel like you're just wearing socks, while providing good airflow and protection against moisture buildup. The size you can choose when ordering ranges from five to twelve, the shoes themselves can be a little small, so we suggest you choose a larger size.
Additional information:
These sneakers are not really ideal for rowing exercises unless you have flat feet. If you do have it, they will fit into your gear perfectly, as they are able to give you good support. They weigh about ten ounces.
Pros
Cons
· Available in a wide variety of colors, which will give you the opportunity to find just the right sneaker for you

· If you have flat feet, then these sneakers will be perfect for your activities and you should buy them strictly

· 13-millimeter drop
ASICS Gel Kayano 25 Comfortable Rowing Shoes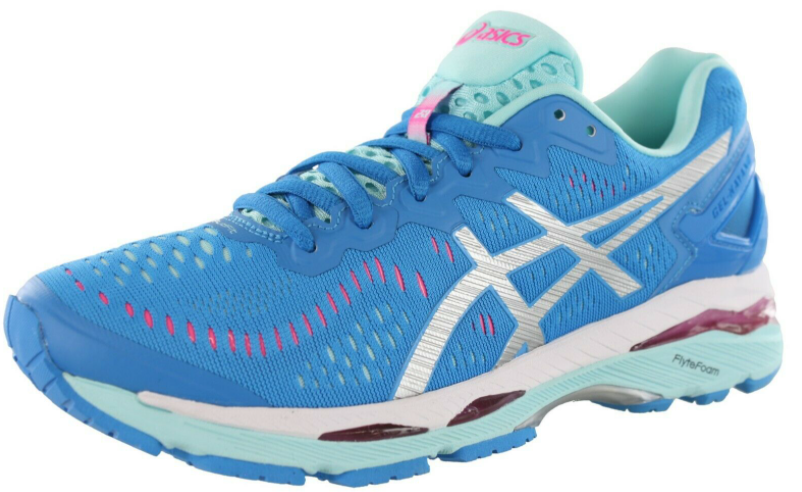 The men's version of the previous sneakers are made specifically to improve heal retention. They too are equipped with a unique technology that gives good support and keeps your toes pleasantly comfortable.
They, too, have eyelets distributed throughout the sneaker that fit the sneaker to your foot and properly distribute all the pressure across the lacing. They also have an elastic sleeve that gently wraps around your foot, allows your feet to breathe, and eliminates excess moisture.
The upper consists of a man-made mesh, and you can choose from fourteen available colors. You can also choose a size from six to fifteen, with a choice of widths: wide and extra wide. They turn out to be slightly smaller in size than advertised, so feel free to increase the size by half when you buy.
Thanks to a bunch of positive qualities that directly affect the efficiency of running, these sneakers are very much in demand by runners who are looking for good support. The same effect will also come in handy for those who do rowing machines.
Additional information:
The special orthopedic insole is an important feature of these sneakers that gives you as many as two huge benefits: increasing performance and creating a positive exercise environment. They are a bit heavy because they weigh 11 1/2 ounces.
| | |
| --- | --- |
| Pros | Cons |
| · Supports your foot well during your workout, making it more efficient and comfortable | · 10 mm difference |
Nike Men's Air Monarch IV Cross Trainer Shoes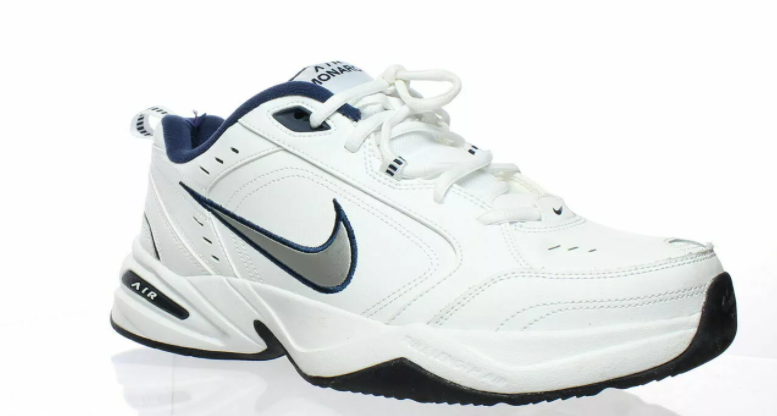 These paddling shoes are your only option among our selection with a leather-covered upper. Even so, you'll find amazing comfort and good air permeability. This is ensured by perforated leather, a weightless foam midsole, and an airtight, airtight outsole throughout the sneaker.
They were originally released for cross trainers, but later they were also appreciated by regular users who started wearing them as an everyday shoe. The feedback from these people is full of raves about their quality and comfort.
Sizes are provided quite a variety, and you really have a lot to choose from. Judge for yourself the range of sizes from three to thirteen, as well as the ability to choose a size in width and the perfect fit for you. There aren't many colors, eight in all, and these are mostly variations of black and white combinations.
The outsole is made of hard rubber material, designed for long life and excellent traction, 10 mm height difference, good support for your entire foot, and moderate flexibility.
Pros
Cons
· The shoes from this brand are designed to be comfortable to wear all day long, which is why they are so perfect for rowing exercises. And you can not only exercise in them, but also wear them in your everyday life

· The support is really good, one of the best in our selection.

· At 10mm the drop is quite high.
That's where we want to end our in-depth review. We've provided you with a terrific list of the best options for men's and women's indoor rowing sneakers that won't hurt your bank account too much, while also offering a bunch of cool benefits and unusual comfort conditions.
Most importantly, do not forget about what options you want to see when buying and using your indoor rowing equipment and clothing.
And we also advise reading all the reviews and reviews of rowing shoes to finally come to the conclusion that the size of this shoe fits you, and the width of the sock is perfectly matched to your foot. We wish you good luck and have a great workout!
VIDEO THAT WILL HELP YOU