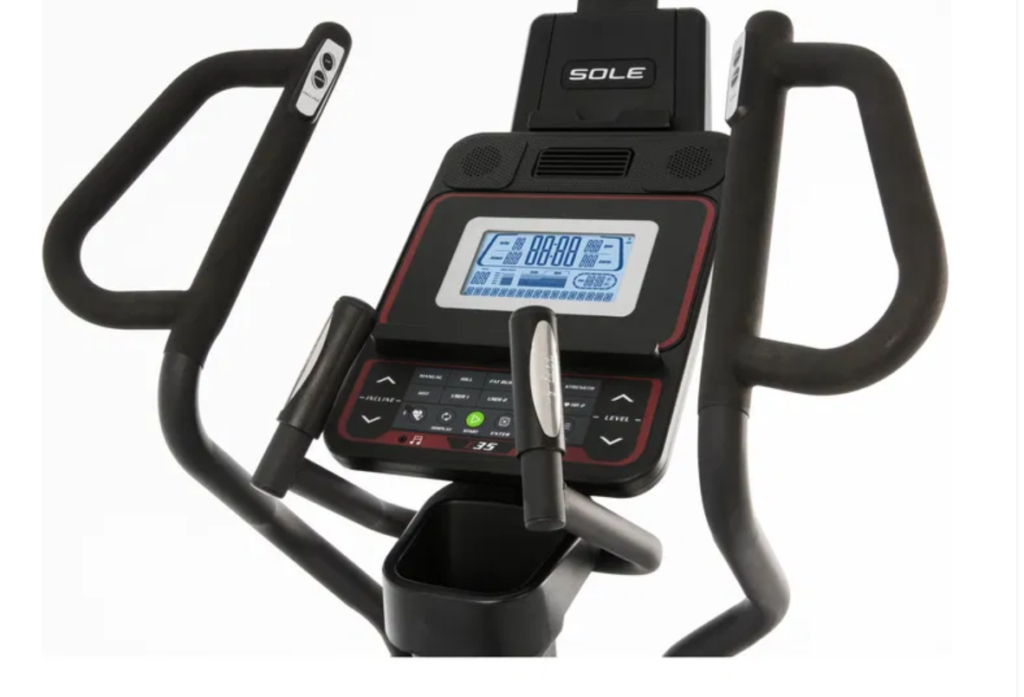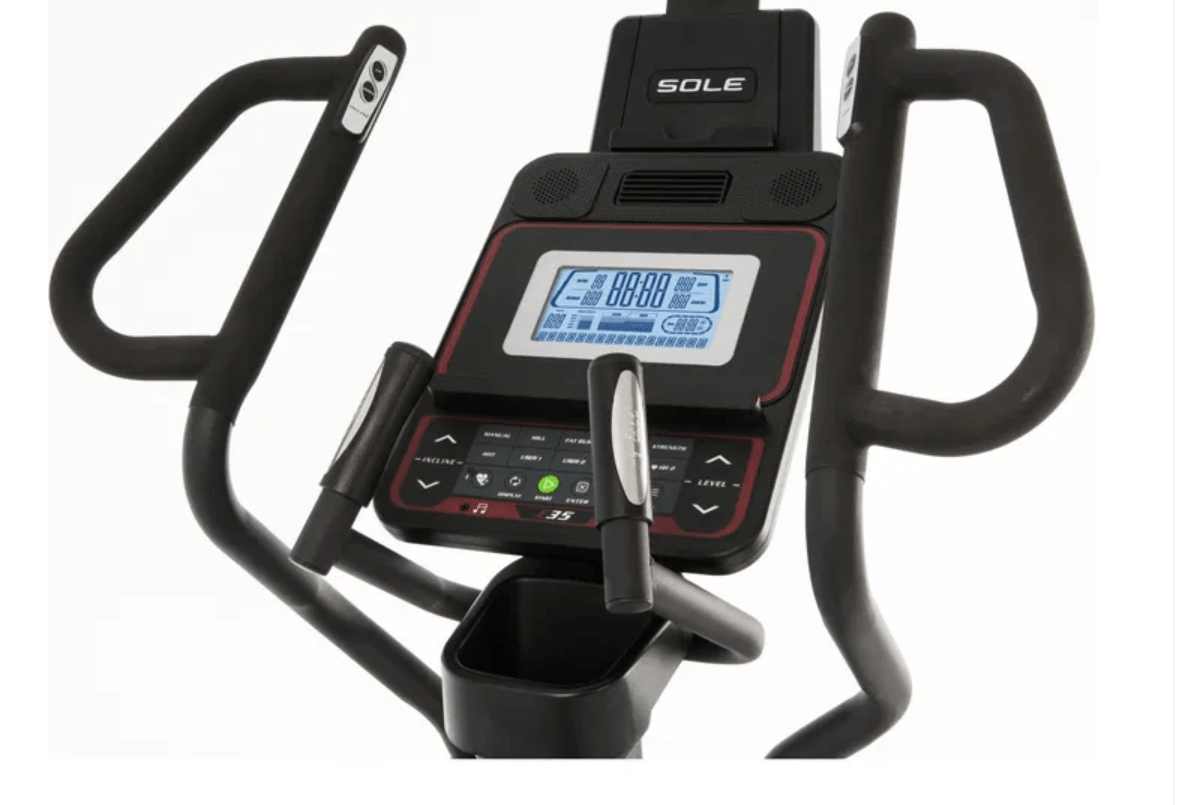 If you are just starting your way in sports, or already are working out for a while and searching for some new, but at the same time average priced high-tech combined cardio equipment with a low level of impact.
Then you definitely should pay attention to the Sole E35 elliptical comfortable and silent magnetic resistance, improved.
The New Sole E35 possesses a lot of useful features, such as music system, which goes together with iPop, MP3 and iPad holder. We would suggest you not to put big hopes on loudspeakers, due to its poor working ability.
In case if you want to follow up on your information in Sole Fitness Application, the new Sole E35 includes in itself Bluetooth as a feature.
As it is told by the Manufacturer, Sole E35 goes together with some trending workout Applications like Fitbit and MapMyRun.
The things I have pointed out before, are the ones, which were added only in updated Sole E35 elliptical release, so be careful when going to the shop and getting any of the Sole E35 cardio machines, because it can turn out, that You obtained an OLD version, which does not have such functionalities.
We have made a list with 20 best choices for 2023, one of them is Sole Fitness E35, but if you are interested to find out what are our other picks- follow the link.
The main thing about Sole E35 is that it does not occupy much of the place, as it is a forward drive mechanism. Here exist a lot of ellipticals with a rear-drive mechanism, but usually, they are not comfortable in use and take a lot of space.
Taking into account the way how quite Sole E35 operates, it's strong frame and affordability, there is definitely no rivals in the market (under $2000) for Sole E35 elliptical.
There also exists some similar workout equipment, which in comparison with Sole E35 is completely financially unprofitable, for example, Life Fitness E5. 
Most people would acknowledge the rightness of statement, that Sole produces upscale fitness machines, with a nice price, and that is the fundamental explanation of this cardio equipment sales. Buying Sole E35 people get a possibility to stay fit without going out of the home.
With Sole E35 you can have some complete body training with front and back movement, 20-inches effortless step, motioning handlebars and a lot of other features.
The distinctive function of the Sole E35 is that it has soft treadles, with two degrees of internal tilt, designed by physiotherapists and Sole engineers. Respectively, a person, who uses an elliptical, can regulate the way how the pedal fits on his foot, basing on his preferences.
Sole E35 Overview
You should go for the Sole E35 elliptical if:
1.You are going to exercise at home with Sole E35. Even though more than one person wants to exercise on this trainer. Not as many other fitness machines, Sole E35 allows to have quite long and effective (actually non-intense) cardio workout, for some few people every day.
2.You are fresher in fitness or already proficient sportsman. Sole E35 combines in itself intense, longevity and steadiness for effective cardio training for the sportsman mentioned before.
Although, we do not really advise this elliptical, if you are pretty wealthy and are able to obtain the one, which is more expensive and qualitative.
3.You live in a flat. The Sole E35 works smoothly silent only in case if it is set and treated in the correct way. While every now and then you peel the paths and wheels with ethanol and grease it.
You should NOT go for Sole E35 elliptical if:
1.You suppose, that by buying Sole E35 you will make profitable investments and save some money. But the thing is, that it is going to be more profitable if you go and have training with a couch, as it is not as comfy as gymnasium equipment.
This elliptical does not ensure features, that can provide you, high experienced coach trainers, on daily workouts, on which you will spend $3000-$5000.
2.You are a person, who loves prestigious and effective training every day. Best Elliptical Machine Hut has chosen Sole E35 as one of the best ones, due to the combination of its features and affordability. But in our opinion with this machine, it is not really possible to spend an intense workout.
So, if you actually prefer prestigious training, we would not advise you to use this equipment, as you are not going to get enough convenience with the elliptical machine. You just should better keep going to the gym.
However, if your goal still is to train at home, it is better to add some more extra money and buy a machine, which will serve you for a lot of years. In this way you will save $2000.
Here is some advice for people, who can afford to buy used expensive training equipment: trading elliptical machine's Precor EFX 835 price is under $3000 but does not have a lot of difference in functionalities of gym equipment.
3.You are a gym holder. I have provided a lot of arguments above, so I think there is no need to explain my opinion, regarding that Sole E35 is not suitable for prestigious athletes once again.
What is special about Sole E35 elliptical
Lots of people have pain in the lower part of the body during a workout on elliptical machines, but scientists have found a solution to this problem. Pain causes pushing outward during the power stroke, but now the problem is solved by adding an inward angle to the footpads. Now it will be easier for legs to train.
The footpads were also a big problem for a good workout, due to that engineers made foot pedals adjustable for any person. You can regulate it in three different ways. You can alter the angle of the footpad as you wish.
Sole E35 has controls on the handlebars, which can change the resistance level and angle of the hand-grips. This option will help with making your exercise better and easier to adjust resistance.
Sole E35 Elliptical Review
Resistance
The sole E35 gives an opportunity to workout with 20 resistance, which you can regulate exactly from the handlebars. You can keep your hands on the handlebars due to this option, unlike the others, where you need to slow down training for resistance change.
You don't need to adjust the resistance level, because Sole E35 can do it itself based on your heartbeat. You just put on a chest strap monitor or place your hands on the sensor and the machine decides the best level of resistance for you.
Stride and incline ramp
The Sole E35 is the best offer for you, because of the combination of quality level and price. You can decide, which muscle you want to train and adjust stride on your own. All the features can be regulated electronically so you don't need to pause training and get off the machine.
You have the opportunity to do strength and cardio workouts. Be sure that it is possible to change the ramp simply using the handlebar.
Note: The stride length must be adjusted with the incline ramp.
Sole E35 Console
Sole E35 is made in two models. The new one has a lot of functions and back-lit displays, which provide easy reading. The new model of the elliptical machine is more progressive and you could alter the angle of the display. This console can track the resistance level, distance, calories, speed, and other factors of the workout.
So if you have made a decision to purchase the elliptical machine, we recommend buying the new innovative model.
User profile
Now you can make two user profiles to follow your achievements. Two people can make their own workout program and save information about it, as well as compare results.
Preset- Programs
You can choose one of 10 programs, which will suit you the best. It has a manual mode, program focused on the heartbeat, weight loss, and muscle training. You can customize one of the 6 standards, 2 custom, and 2 heart rate programs, as well as save them on your profile.
Heart rate
The elliptical machine has two sensors and can be combined with a chest strap and handlebar pulse sensors. It also is compatible with Bluetooth and Apps, so you can connect your smartphone to the sole E35 and save your workout data. This feature helps to record results and share it with the other apps.
Cooling fan and speakers
This new model has both options, so you can enjoy cooling fans and stay fresh, as well as enjoy favorite music or movie. You can connect your own MP3 or smartphone and listen to music, but speakers are not the best quality, so it is better to use headphones.
Pedals and Handlebars of Sole E35
It is extremely easy to control these 15 – inch pedals, which are suitable for every person with its personal shape differences. Due to a process, by pressing the foot out, pedaling exercises impact lower body articulation.
That is a description of that, why the 3 percent internal regulation helps to maintain ankle and hip balanced. The problem with a finger numbness that occurs in many elliptical trainers after lengthy workouts were also solved. You are able to control and manage the pedal in variety from 0 to 10 degrees.
Sole E35 has one outstanding option, owing to multi capture location levers, which don't have other more expensive trainers with straight vertical wide rudders. 
Maybe it looks like a not really a weighty argument, but many of the fitness elliptical machines simply don't have this feature. The wide and straight rudder machines provide difficulties for users, who are small-sized or just with short arms.
You also are able to choose any of the wheel levers, which are 5 in the total count. It is really easy to manage the motioning handlebar, as you are able to control the resistance or tilt just by pressing a button, which is placed on the lever, without changing the location of your hands.
Only advanced machines have this very feature. It is possible to monitor your heart rate with the help of the sensor on the handlebars.
Flywheel and drive
The Sole E35 is equipped with a special forward wheel drive system, in which all the mechanisms are situated under the console. That gives an advantage over other machines, which are back driven.
If your flat or house is quite small, Sole E35 is a wonderful option for you, as it occupies not a lot of places. Also, the flywheel ensures flowing movement for the workouts.
Sole E35 is a perfect match for people, who want to place it in the flat, as it operates silently. But if you are a proficient sportsman and put more effort, than ordinary people Sole E35 definitely is going to work louder.
That is a reason we don't advise buying Sole E35 for experienced athletes, offering to get E98 instead.
| Style Number | E35 |
| --- | --- |
| Srurdiness | |
| Warranty | |
| RATING | |
| Concole | |
| Customer Service | |
| Stride Length | 20-22 |
| Speker | YES |
| Resistance | 20-Level Magnetic |
| Programs | 10 |
| POWER | AC Adapter |
| MODEL | E35 |
| Media Shelf | YES |
| Max User Weight (Lbs) | 375 |
| Incline Ramp | 0-30 |
| Folding | No |
| Flywhee (LB) | 29 |
| Elliptical Weight (LBS) | 215 |
| Display | Back-lit |
| Dimensions (LWH) | 83" x 27" x 58" |
| Cooling Fan | YES |
| Compact | No |
| Bottle Holder | YES |
| Bidirectional | YES |
| PRICE | Check Price |
Things which are embedded with Sole E35 elliptical
Special container for a drink bottle
Media storage
Wheels, which are easy portable
Back lever for transportation
Air conditioning system and sound system
Cordless pulse chest belt
The point you should take into account when buying Sole Fitness E35 Cross Trainer:
A rug to keep the floor safe from any kind of damages
Cleaner for the elliptical equipment
Rail Grease
Conclusion
The main benefits of Sole E35 are the possibilities of durable training and chances to achieve set purposes way faster. Sole E35 was projected in collaboration with technicians and physios for unusual ergonomic peculiarities.
You are able to regulate a trainer up to your preferences, which usually are either your size or form of the body. Technicians and physios did everything, what was in their possibilities, for the user to feel free when working out with Sole e35 at any place.
The machine works smoothly and silently, at the same time having a lot of great training options. The only thing, Sole E35 always requires being connected to the power and it is not self-charged.
So, be ready that your utility bills will increase by 150$ per year. In order to manage flowing and sustainable feeling and to get rid of random pedal movements, which always have a different direction, Sole E35 is provided with 4 back wheels.
Also, Sole E35 has a great option, which allows users to train various muscles and body parts because this machine is two – forked.
☟ PLUSES
Computerized relatable tilting ramp
It is possible to regulate pedals
20 Magnetic opposition degrees
20-22 Inches regulated step
Multi steering handlebar
Possibility to manage integrated handlebar
Ability to connect to applications and Bluetooth
Durable assurance
Great combination of price and quality
Big LCD monitor
Lever for simple transportation
Speaker and cooling fan
Works silently and smoothly
Contains chest belt
☟ MINUSES
Does not charge by itself
Does not allow a user to have long and enhanced workouts
The step length only changes when regulating and leaning ramp
The sound system is not equipped well (particularly speakers)